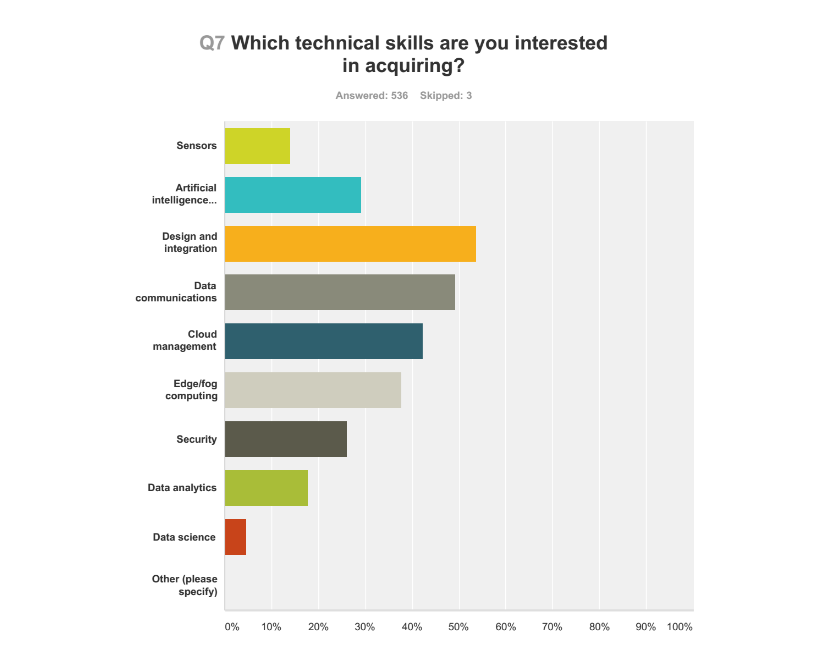 Soft skills like communication and collaboration may just be the key for solving some of the challenges facing the field of Internet of Things (IoT).
According to Northeastern University-Silicon Valley's survey released this week, which polled more than 500 members of the Institute of Electrical and Electronics Engineers (IEEE), enterprises are going to need skilled employees if they want to take on IoT ventures.
The problem, according to  PK Agarwal, regional dean and CEO of Northeastern University-Silicon Valley, is the overall market is going to need millions of people working in this industry, but where are they going to come from if there is a shortage of skills?
He said with industries rushing to get the ROI out of the sensor business and consumer devices, he is convinced IoT is going to be the "mother of all STEM skill shortages."
It's not just the engineers or data scientists that need educating; everyone will eventually need to learn the basics about IoT and connected devices, added Agarwal.
For those looking to grow a lasting career in IoT, Agarwal emphasized soft skills like communication or collaboration to support the need for real-world human abilities versus technical strengths in computer science.
In the survey, 58.8 percent of respondents listed the need for communication skills as career strengths relevant for success in IoT. But, only 14 percent cited collaboration as a relevant skill. This came as a surprise to Agarwal because in Silicon Valley, they are constantly emphasizing that employees need to have strong soft skills if they want to be successful in any technology sector.
"For engineers to realize the magnitude of change that is coming around IoT, and that they need to become more than anything else, a change unit, is a critical success factor," said Agarwal.
Agarwal said skills relating to data and data analytics is also another "hot area." Data aggregation, knowledge of network protocols, machine and deep learning — these are all skills that will be useful for those in IoT, he said.
In the survey, 53.7 percent of respondents said they want to acquire skills in system design and integration, with 49.3 percent of respondents saying they want to build skills in communication. Also, this compares to just 4.7 percent of respondents who desire new skills in data science.
"These IoT devices are going to be spewing data, and not all of this data can fit in the cloud," said Agarwal. "Obviously in the end, it's not really about the devices themselves, it's about the analytics. You know there's all this data that you need to analyze."
Learning to analyze all of this data and package it into visualizations is going to be a foundational skill for technical employees, said Agarwal. Instead of just becoming a "cog in the wheel," employees will be more intelligent and able to digest what all of this data means, and where it is coming from.