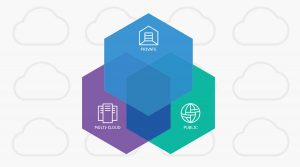 As companies accumulate data, they need new ways to store it, manage it, innovate off it, and scale services based on it. Earlier this year, IBM announced the IBM Cloud Private (ICP) for Data solution, and today the company is expanding it to provide new ways to uncover hidden insights from data.
The company has revealed it is collaborating with Red Hat to certify the AI-focused data platform to run on Red Hat's open source container application platform OpenShift.
IBM also announced that it's launching a new version of ICP for Data — ICP for Data Experiences, meant to serve as an introduction to the platform.
Through ICP for Data Experiences, "developers and data engineers alike can move quickly through the steps it takes to do things like collect and prepare the right data for machine learning models, create predictive analytics models to understand future outcomes, and how to go about deploying and managing these models," Rob Thomas, general manager of IBM analytics, wrote in a post.
The news of the imminent OpenShift certification follows related news from IBM partner HortonWorks about its own platform, as well as news from earlier this year about IBM and Red Hat's plans for IBM middleware integration with OpenShift.
"Now with ICP for Data certified for OpenShift, clients will be able to run their cloud-native workloads across OpenShift's vast landscape and stretching across on premises, public and private clouds," Thomes wrote.
IBM also announced the addition to ICP for Data with the introduction of analytics query utility QueryPlex, which the company says "is designed to enable people to write analytics queries that can access data anywhere across the enterprise, be it from servers, desktops, mobile devices, a car, etc., as if you were searching a single database. It's like we're giving people the ability to SQL the world. And because it's on ICP for Data, this new feature can help you find the data you're looking for whether it's on premises, or on private or public clouds."
In addition, the company will be sponsoring the StackExchange AI community on the Stack Overflow Network. IBM hopes this will help foster a conversation around AI, machine learning, data science, data governance and hybrid data management.
"Which brings us full circle on the issue at hand – helping empower people and organizations with the easiest, most intuitive yet sophisticated tools and platforms to begin managing and analyzing their mounting data – all with an eye on AI. Because be forewarned, no enterprise will scale the AI ladder without having its data prepped, managed, available and accessible. We think we've built the most powerful system yet to help you accomplish this," Thomas added.