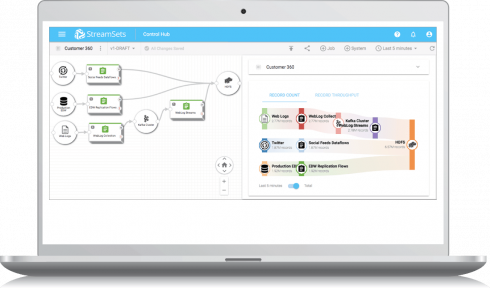 StreamSets is expanding on its DataOps platform to bring modern data integrations to data centers and leading cloud platforms like AWS, Microsoft Azure and Google Cloud. The latest release features data drift capabilities, continuous integration and delivery automation, and policy-driven data protection.
According to the company, DataOps is the idea of bringing DevOps practices to data management in order to reduce data analytics cycle times, and focus on automation, collaboration and monitoring. The DataOps platform was built to provide cross-platform data integration; data SLAs for continuous monitoring; measurement and enforcement; continuous integration and delivery of dataflows; and data drift resilience.
"While the term DataOps itself has not yet become mainstream, it is clear that the associated concepts and technologies are being widely adopted by enterprises as they seek to become more data-driven," said Matt Aslett, research vice president at 451 Research. "Businesses are moving toward real-time and self-service cloud analytics executed on large volumes of data, and the complexity and rate of change in data architectures and data user requirements demand the agility and automation promised by the continuous processing and integration of data streams."    
New data drift capabilities are designed to handle cloud data stores and improve pipeline resilience. Data drift causes unexpected changes to data structure and if not addressed, can cripple analytics initiatives, StreamSets explained. The CI/CD features are meant to bring DevOps agility to dataflow pipelines, and new data protect policies provide the ability to manage security and compliance in one place.
"As our customers embark on their hybrid cloud journey, we see first-hand their struggle to orchestrate end-to-end management of data movement across a growing range of on-premises and cloud platforms," said Arvind Prabhakar, CTO, StreamSets. "Our DataOps platform was architected as cloud-native from the start, allowing us to easily evolve with the market. Cloud drift-handling and CI/CD for dataflows are unique enhancements that help our customers on their journey from traditional to modern data integration based on DataOps."
In addition, the company announced a $35 million round of funding, bringing StreamSets' total funding to more than $65 million. The investment will be used to accelerate research and development efforts as well as improve customer-facing functions. The Series C funding round was led by Harmony Partners and included Tenaya Capital, Battery Ventures and New Enterprise Associates.
"We're seeing enterprise data architectures grow in complexity while use of big and fast data becomes business-critical, driving market insights, product innovation and operational excellence," said Mark Lotke, founder and managing partner at Harmony Partners. "Harmony is purpose-built to find and support bold tech entrepreneurs who are revolutionizing their industries, having invested in firms such as Alation, InfluxDB and Qubole. StreamSets fundamentally changes the $10 billion data integration market, helping companies cost-effectively squeeze maximum value out of their big data and streaming data assets."