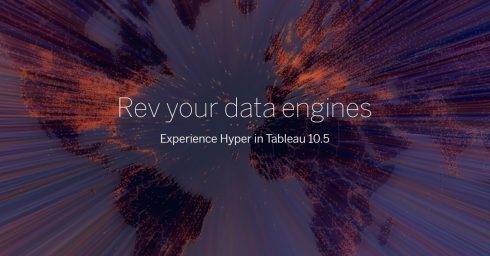 Visual analytics platform provider Tableau Software are promising 5x faster querying and 3X faster extraction over previous iterations with the introduction of new data engine technology, Hyper, in version 10.5 of Tableau.
Hyper is designed to provide fast data ingest and analytical query processing on large or complex data sets. According to Tableau, the new in-memory data engine technology will provide better insights as well as the ability to scale analysis to more people.
"We're incredibly proud of the work the Tableau team has done to deliver this game-changing data engine technology, embed it into the heart of Tableau's product, and most importantly, make it a seamless upgrade for our customers," Tableau chief product officer Francois Ajenstat said in the announcement. "Hyper brings increased performance and scalability to analysis, making data more useful at all levels in more organizations than ever before."
Also being introduced with Tableau 10.5 is Tableau Server on Linux, which the company says has identical end user functionality to the Windows version of the platform. It includes support for CentOS, Ubuntu and Oracle Linux distributions.
"With this new deployment option, customers who prefer Linux no longer need to maintain both Windows and Linux environments to support Tableau," the company wrote in the announcement. "Additionally, for customers who wish to run Tableau in the public cloud, Tableau Server on Linux is a compelling solution. While the cost of Tableau Server is the same on either platform, deploying to the public cloud on a Linux server is an extremely cost-effective deployment option."
In addition, Tableau brings Viz in Tooltip, which "allows Tableau customers to streamline their dashboards and stories, seeing new insights within context while also saving space and keeping designs clean by adding supplemental data into the tooltip," and improved governance and content control with nested projects and fine-tuned permission management.