This year will be the year the Internet of Things (IoT) makes it big, according to one survey, and with the Internet of Things will come a new world of user experience. Embarcadero Technologies has released the results from its Software for the Internet of Things Developer Survey, which revealed that three out of four developers see a new user experience for the IoT.
"Developers are going to have to change the way end users interact with an application," said John Thomas, senior director of application development products for Embarcadero. "It isn't just a four-inch phone device anymore. It is a bunch of infrastructure that goes into delivering real solutions."
(Related: Internet of Things hype is peaking)
While the survey revealed that 56% of IoT devices will include traditional inputs such as keyboards and buttons, 97% of devices will accept non-traditional inputs such as sensors and GPS, and 37% will use non-traditional ways to present information such as virtual reality and haptics.
"Developers are going to have some big challenges in building solutions because they have to learn a lot about the individual gadget or thing they are integrating with and how best to deliver it," said Thomas.
The survey also revealed that 2015 will not only be a big year for building integrated IoT solutions such as industrial sensors, drones, health monitors and smart buildings, but it will also be the year that the IoT will start making an impact on businesses.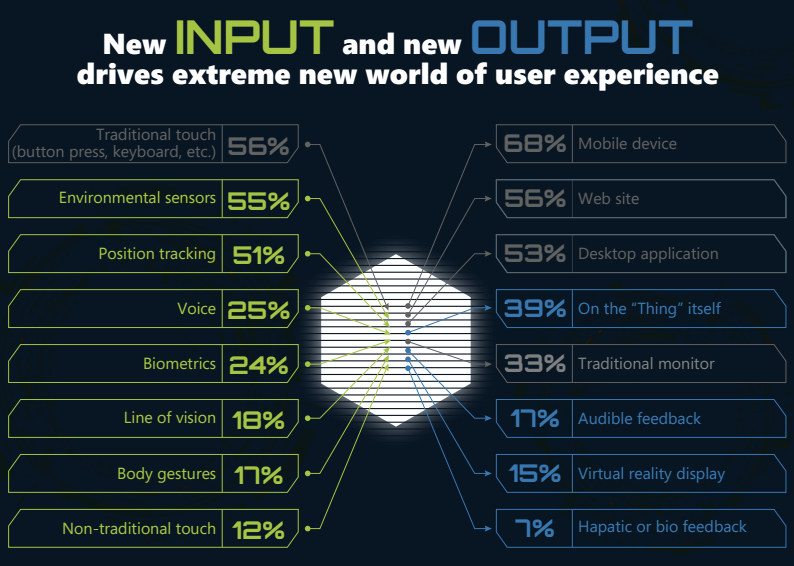 "This is really when we are going to see the majority of applications starting to integrate the Internet of Things," said Thomas. "The Internet of Things is becoming a business reality, an enterprise reality. It is not just a novel thing for a consumer to interact with. It is about building real business and enterprise solutions around them, and this is the year they are going to be going to the market with it."
According to the survey, 77% of development teams will be actively developing IoT solutions in 2015, and almost half of developers expect their solutions will generate business impact by the end of the year.
In addition, the survey showed that 71% of IoT devices will move data between devices and servers, 72% will communicate using multiple technologies, 49% will connect to cloud services, and the top operating systems will be Android and Windows.
"Developers are critically important for IoT to be successful, especially if you are building solutions," said Thomas. "If you are just talking about a simple wearable that connects to a mobile device, that is one thing. But when you are talking about building out architecture and infrastructure to solve real business solutions, developers are more critical then they ever have been to make these things a reality."