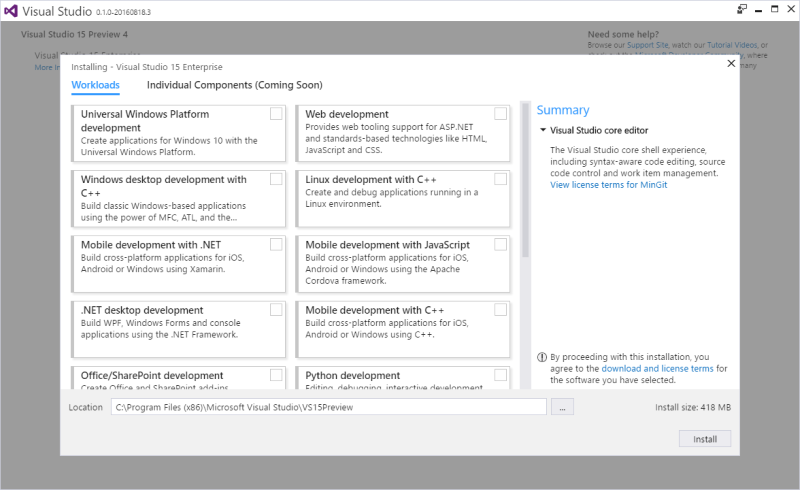 Microsoft is one step closer to releasing Visual Studio "15." The company has announced the fourth preview of its upcoming suite of developer tools and services.
According to John Montgomery, director of program management for Visual Studio, the biggest highlight of this preview is the fact that the majority of Visual Studio is now operating on a new setup engine, making installation smaller, faster and less impactful. "The smallest install is less than 500MB on disk (compared to 6GB in the previous release of Visual Studio). There are a couple of 'workloads' that aren't present yet, including .NET Core tooling and Azure tooling, but the rest of the existing VS 2015 feature set is available," he wrote in a blog post.
(Related: Microsoft updates Visual Studio sign in)
The new installation engine was designed to be lighter; customizable so users could install exactly what they needed; faster; and more predictable. To do that, Microsoft provided a minimum installer that contains only the core elements of Visual Studio such as the shell, code editor, managed and native debugger engines, and source-code control.
In addition, preview 4 provides an enhanced start page experience, as well as improvements to its feedback systems.
"A couple of important caveats about Preview 4," wrote Montgomery. "First, this is an unsupported preview, so don't install it on machines that you rely on for critical production work. Second, Preview 4 should work side by side with previous versions of Visual Studio, but you should remove any previous Visual Studio '15' Preview installations before beginning the setup process."