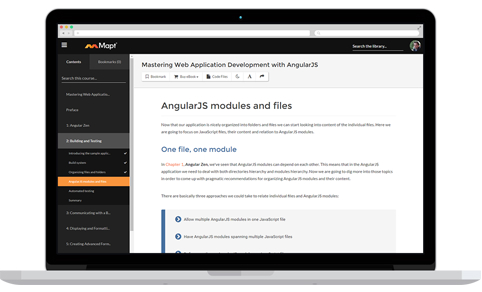 Developers have another option for learning new professional skills with today's release of Mapt, an online learning platform built for developers and development teams.
Packt is a U.K. company that delivers learning and information services to IT professionals, and Mapt covers a range of topics to help developers fill in knowledge gaps and stay up to date on the latest technologies and skills. Some areas covered include data science, game development, security, frameworks, methodologies and languages.
(Related: Machine learning is the new SOA)
Developers use Mapt to select their "dream job," or just the skills they want to master, like building websites or creating machine learning systems. The materials and resources on Mapt were created by developers, and it draws from Packt's library of more than 4,000 books, e-books and videos.
The platform also allows developers to control how they learn. Mapt provides modular learning so developers can learn while they have downtime. It also gives developers the option to pick a free course that will always be available to them.
"Packt's aim is to keep developers relevant so they can stay competitive in their careers," said Dave Maclean, CEO of Packt. "Mapt is a direct and personalized route to gain the most in-demand skills in tech, making it easier and quicker than ever for developers to advance their careers."
Mapt is designed for the individual developer and developer teams. Companies can use Mapt's library of more than 3,000 technical courses on a variety of courses to help their development teams learn new technologies, languages, and other skills. Managers are also able to track their teams' progress with Mapt to see how effectively they are learning and to make sure their developers are still engaged.
Currently there are 3,500 courses where developers can learn to build websites or create machine learning systems with Python. Mapt is updated daily, with more than 50 new titles released to its library every month, the company said.