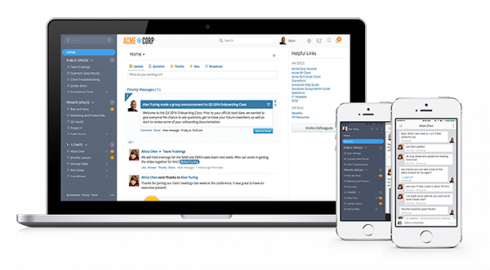 It seems the enterprise collaboration software competition is just heating up, but one platform is already dropping out of the race. VMware recently announced the end of availability of Socialcast, effective May 17, 2018.
Socialcast was first acquired by VMware in May 2011. At the time, the companies described the solution as a "collaboration platform [that] unites people, applications and data in real-time."
"The acquisition of Socialcast lets us continue to move towards a user-centric environment, allowing organizations to deliver access to applications and data to any device, anywhere," VMware wrote.
According to Mike Hicks, vice president of strategy at the digital workplace company Igloo Software, the product could not keep up with the other collaboration solutions on the market such as Slack, Microsoft Teams and Google Hangouts.
"Businesses' communication and collaboration needs are increasingly versatile. While an office social network can be a strong asset for certain forms of communication, it may not be an effective means for knowledge sharing, like providing employees with company guidelines or policies. Companies need a solution that can serve all their needs via a single platform. There is an overabundance of apps in the marketplace, and leaders are looking for solutions that integrate seamlessly and can house all communication and collaboration needs in one place. Unlike Socialcast, the leading platforms provide productivity, innovation and competitive advantage benefits, aside from just a social network," Hicks said.
VMware plans to continue to support the platform for paid licenses until May 17, 2019, and will be working to find an alternative solution for users whose platform commitment extends beyond the year. VMware plans to decommission the free version by August 1, 2018. "We encourage you to begin investigating replacement options for your enterprise social collaboration solution and to export all data for your community prior to that date," the company wrote.
Before choosing a new enterprise social solution, Hicks suggests Socialcast users do a retrospective of their time using Socialcast to determine the functionality they are looking for and the limitations they faced with the platform. "Socialcast customers should look at this as an opportunity to reframe their thinking and build a complete digital workplace that revolves around the 4 key pillars of communication, collaboration, knowledge management and culture, so they can move beyond the noise to start increasing productivity and building a strong corporate culture," he said.
Enterprise collaboration solutions should be able to scale, provide a set of capabilities, and reduce the risk of silos. "For example, they need to do more than just allow employees to chat with one another. There needs to be other capabilities that allow for a fuller collaboration experience. For instance, a digital workplace helps employees collaborate, strengthen teams, and improve information sharing," Hicks explained.
More information about Socialcast's end of life is available here.