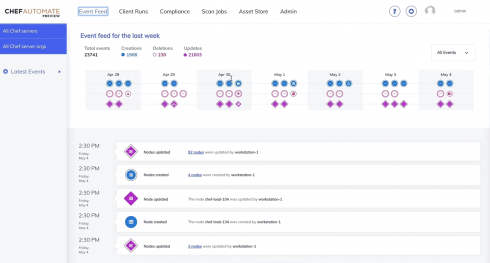 Chef announced a number of new updates designed to bring businesses beyond infrastructure-centric configuration management. The company released Chef Automate 2.0, Chef Application Automation and Chef Compliance Automation at its annual conference ChefConf 2018 in Chicago today.
"The race to modernize IT by deploying and managing new and legacy applications in multiple environments is greatly hindered by the complexity of current toolsets, including containers," said Stephen Elliot, program vice president of management software and DevOps at IDC. "Solutions that span the application lifecycle and unify the teams currently tasked with owning and optimizing small pieces of the puzzle will enable enterprises to move their modernization initiatives forward, and achieve their business goals, more rapidly."
According to a recent report by Chef, app and infrastructure leaders revealed the time it takes to complete application builds, time from code to production, and time for commit to deploy as the most critical measures of app deployment success.
Chef Automate is the company's continuous automation platform. The 2.0 version aims to rebuild the solution's performance, scale and analytic capabilities. New features include enhanced operational visibility and debugging, compliance scanning and reporting in any environment, and a Go-based microservices architecture.
The company's DevOps solution, Workstation, was updated with new standard desktop/laptop experiences, and better cohesion between tools.
Chef Application Automation, also known as Habitat, enables teams to build, deploy and manage "any app, anywhere." New capabilities include Habitat Builder on-premises and expanded ecosystem integrations including Kubernetes Operator, Azure Container Service, Helm chart exporter, Open Service Broker integration, and Splunk operational analytics integration.
Lastly, Chef Compliance Automation or InSpec was updated with cloud configuration compliance, more than 30 new resources, and improved performance.
"Enterprise software development and delivery is so often gated by the operational concerns of infrastructure – from desktops to servers, storage and networks – applications end up as a second-class citizen," said Corey Scobie, SVP of product and engineering at Chef. "This is insufficient to thrive in a world where the primary interface to customers, and therefore revenue, is the application. The targeted solutions we introduced today enable executives and their organizations to make that critical shift quickly and easily."