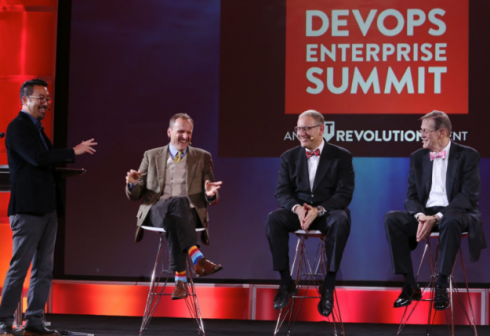 The DevOps Enterprise Summit comes to Las Vegas Oct. 22-24, with topics ranging from digital transformation, to using metrics to assess your DevOps efforts, to the future of DevOps and what that means.
Produced by IT Revolution and founding partner Electric Cloud, the summit brings together the top thought leaders in the DevOps space for three days of practical and provocative sessions. More than 1,800 IT professionals are expected to attend, according to conference organizers.
"I'm so delighted at the breadth of industries represented by the speakers for our Las Vegas conference," Gene Kim, founder of IT Revolution and co-author of "The Phoenix Project," said in a statement. "Attendees will discover emerging DevOps practices, connect with industry pioneers and will leave energized to apply what they've learned in their own organization."
Among the keynote presenters are Jez Humble and Nicole Forsgren, co-founders of DevOps Research and Assessment (DORA), who will speak on "The Data Behind DevOps: Becoming a High Performer." DORA has produced a State of DevOps Report for the past four years, which shows the ways in which teams achieve high performance, and what holds others back.
Another keynote will look at DevOps leadership. "Breaking Bad Leadership: The Anti-Heroes of DevOps" will take a look at how KeyBank defines leadership roles and how it resolves common leadership tendencies that can stall DevOps implementation.
Including the numerous keynotes, the conference will feature more than 90 sessions presented by more than 100 speakers, while around 55 software providers and consultants will be on hand in the expo hall, which will be open all three days. There is still time to register at https://events.itrevolution.com/us/register/.