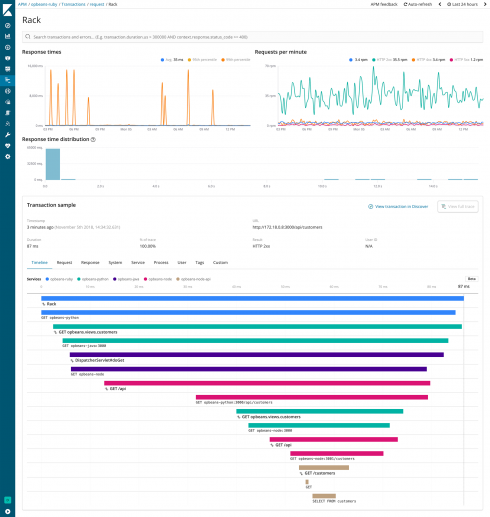 Open-source search and analytics company Elastic released version 6.5 of its Elastic Stack suite of open-source utilities today, introducing infrastructure monitoring, distributed tracing support and Java and Go agents in the Elastic APM tool.
While this release may be labeled as a 'minor release' the company explained there are foundational stack-level features being applied for more experiences and use cases.
"This latest release aims to help users of the Elastic Stack store, manage, and analyze their data more efficiently, scale their operations, and improve how they interact with their data through new user interfaces (UIs), visualizations, and dashboards," the company wrote in its announcement.
The new Elastic Infrastructure Monitoring solution is aimed at making operational data more easily visualized with a new UI to get an overview of physical, virtual and container infrastructure elements, the company said. It features the first release of the company's Functionbeat technology, which will let users monitor cloud-based serverless infrastructure like AWS Lambda.
Distributed tracing support in the 6.5 version of the Elastic APM was initially introduced in the beta version of the release. The company explained the update "allows users to string together transactions and visualize the performance of requests as they flow through an organization's infrastructure and adds new agents for popular programming languages Go and Java."
The last major new feature of Elastic Stack 6.5, according to the company, are new collaborative and sharing capabilities in the Kibana visualization plugin, which lets users create presentations and workpads for sharing information. "Kibana users with 100s and 1,000s of dashboards and visualizations, can use the new Kibana spaces feature to group collections of Kibana objects into "spaces" such as, a logging space, marketing space, etc. and then define role-based access permissions and privileges for each space," the company wrote.
The release also includes Elastic Stack's cross-cluster replication beta, SNMP polling plugin, interactive file import beta and added machine learning functionality.