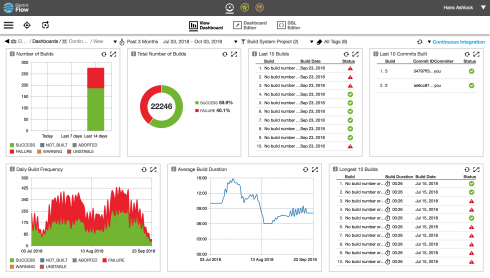 There are many tools and ways of doing DevOps. Electric Cloud wants to make sure businesses have the flexibility to use the tools and processes that work best for them in its latest release of its enterprise SaaS and on-premises Application Release Orchestration solution ElectricFlow.
ElectricFlow 8.5 features a new Kanban-style pipeline view, CI dashboarding capabilities and object tagging for customer reporting and improved searchability.
"When we say your way, we literally mean it. Maybe you are happy with your process. Maybe you are not. Maybe you want to evolve. We allow you to change your process as part of the process or tool, but we won't force you to," said Anders Wallgren, CTO of Electric Cloud. "It becomes the platform you evolve and improve, and be flexible in the way you do your software pipeline."
The new Kanban view shows the entire release cycle with all the stages in one screen. It can tell users where they are, what happened and what is about to happen. Then, for more details, users can switch back to the pipeline view to see what is running where and when, and what team was tasked with doing.
The Kanban view was added out of the need to provide release managers more about the process and less about the automation. "It is a higher level of abstraction for release managers, but still allows them to drill down into details if they need to," said Wallgren.
The new CI dashboarding capabilities provide data-driven visibility into CI processes and bottlenecks. This will provide a clearer view into builds, according to Wallgren. In addition, it tracks all of a team's CI processes no matter the tools they are using. It supports CI tools such as Jenkins, Bamboo and Git.
The newly added object tagging functionality provides more granular, real-world reports for release managers and project owners, according to the company. You can now create reports with universal data segmentation across any object types such as applications, pipeline stages and environments.
In addition, ElectricFlow now features support for SaaS teams in on-premise, cloud native and serverless environments.