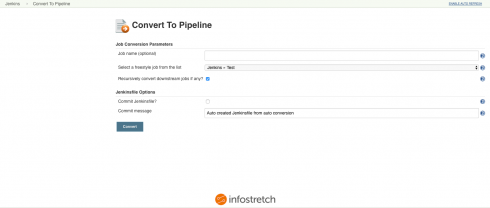 Infostretch has announced a free Jenkins plugin and service intended to assist enterprises with streamlining DevOps development. The plugin will significantly decrease the time needed to code DevOps pipelines and migrate to Jenkins 2.0.
It will be able to auto-convert about 90 percent of freestyle Jenkins jobs. Now, instead of developers having to go through thousands of jobs to understand tools, configurations, or parameters, the plugin can just generate the appropriate code for them, the company said.
"DevOps teams depend on CI/CD tools to drive digital transformation," according to The Forrester Wave: Continuous Integration Tools, Q3 2017. "Automating manual tasks is a key accelerator for digital, so teams should actively embrace tools which eliminate manual tasks and enable repeatable processes to take place automatically. Automation saves time and effort which can be re-directed to move pipelines forward faster and more efficiently."
Once the auto-generated jobs are in the DevOps pipeline, Infostretch's testing and QA support will ensure everything is working properly.
By using Infostretch's plugin, teams can reduce the cost of application maintenance by 40 percent, according to the company.
"Jenkins jobs can pile up. Converting freestyle jobs used to be a time drain, and that can derail even the best laid DevOps plans," said Rutesh Shah, CEO and co-founder of Infostretch. "We created the Jenkins plugin simplify the process, dramatically reduce the manual effort required and bring down costs to do with application maintenance."