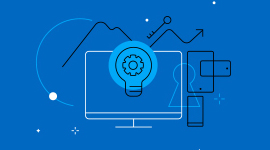 Digital transformation and enhanced user expectations have established the need for 24x7x365 availability as the "new normal." While business continuity is not a new concept, real-time and near real-time expectations make outages more costly and disruptive to the business than ever before. The natural disasters of 2017 demonstrated that businesses cannot afford a single point of failure. However, outages occur due to many other factors including security breach, oversight in recovery testing or a simple implementation error. In fact, according to the February 2016 Forrester Research report, "Building the Always-On, Always Available Digital Enterprise," one-third of companies have had a major disaster or suffered a significant disruption in the past five years due to human error.
"Enterprises are relying more and more on data, so they need to ensure their businesses are operating effectively and continuously," said Dan Mitchell, principal sales engineer at Progress. "We provide a database engine and language that make it easier to develop applications and continue to enhance it to provide increased always-on capabilities. Coupled with proactive monitoring, data encryption and online maintenance capabilities we help our customers to achieve business continuity."
Assess your business continuity profile
A solid business continuity plan can help ensure that a company can continue to do business without interruption. Part of a solid risk management strategy is assessing an organization's sensitivity to outages. While tolerance ranges from company to company, today's consumers, business partners and employees expect systems to always be available.
"When our customers ask what kind of availability we enable, we ask them to estimate the cost of downtime for a single hour," said Mitchell. "As companies become more digital, uptime becomes more critical because the cost of downtime increases."
A typical cost of downtime calculation examines lost productivity and/or revenue, regulatory fine fallout, reactive recovery efforts, and intangibles such as loss of customer loyalty or brand reputation, which are harder to measure but have lingering effect.
Complete continuity
The February 2016 Forrester Report introduced the concept of "technology resiliency" which it defined as the ability for an organization to absorb the impact of any unexpected event without failing to deliver on its brand promise. The concept goes beyond traditional notions of business continuity and disaster recovery, defining 5 key areas that enterprises must address simultaneously:
Proactive monitoring
Operational backup
High availability
Disaster recovery
Security
"Enterprises tend not to address all five of those things equally," said Mitchell. "They tend to address one or two of them at the expense of the others, so they're caught off-guard when they should have been able to proactively manage the situation."
For example, when most people think of downtime, they think in terms of disaster recovery when the problem could have been caused by an errant application that's causing an entire system to freeze up. A Progress customer recently faced an availability issue which it blamed on their application. With Progress' assistance, it became clear that another application had caused a network card to overflow."
Being prepared across the environment and for various situations minimizes impact.
Choose the right tools
The Progress OpenEdge RDBMS Advanced Enterprise Edition (AEE) covers all aspects of Forrester's technology resiliency model. It provides a unique on-premises, cloud or hybrid computing and application production solution in one package that's both cost effective and secure. With it, OpenEdge customers enjoy high database performance, reliability and 24x7x365 availability plus scalability that can support thousands of concurrent users and terabytes of data.
OpenEdge AEE includes six modules that can be purchased individually or as a bundle, including OpenEdge Management, OpenEdge Replication and OpenEdge Transparent Data Encryption (TDE).
OpenEdge Management enables IT teams to monitor applications and proactively troubleshoot impending problems in real time so they can ensure customer satisfaction and meet SLAs.
OpenEdge Replication provides flexibility in maintenance and reduces unplanned downtime by protecting business critical data and eliminating a single point of failure.
OpenEdge Transparent Data Encryption (TDE) uses standard encryption libraries and encryption key management to provide secure, encrypted data.