The Consumer Electronics Show (CSE) comes to a close today in Las Vegas after a week of companies showcasing their latest innovations. Here are some of the products in the show that stood out amongst the rest.
Garmin:
Garmin showcased a new infotainment platform at the conference.  The platform is designed for Automotive Original Equipment Manufacturers (OEMs) and includes wireless rear-seat navigation, comprehensive weather forecasts along a route, Foursquare's Location Intelligence and Places Database, and unique integration of Amazon's cloud-based Alexa voice service.
In addition, the company announced the Forerunner 645 music running watch. The product is a GPS running watch with integrated music that will give athletes freedom to enjoy their favorite music on the on a run or during a run without the need of a phone. It includes advanced running dynamics, performance monitoring tools, connected features, and thousands of ways to customize the watch itself.
"Now, with the addition of integrated music and Garmin Pay, the Forerunner 645 Music will help give athletes the independence they've been looking for while still providing them with the quality and accuracy of our other running products that they have come to rely on," Dan Bartel, Garmin vice president of worldwide sales, said.
LEGO: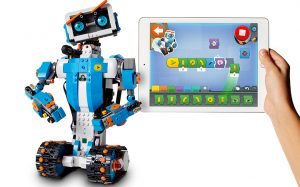 LEGO Group announced its latest product called LEGO Boost. The product is a building and coding set that allows children to bring LEGO creations to life, which includes adding movement, sound and personality. This will also include more than 60 activities designed to inspire additional building, coding and play.
"We know that children dream of bringing their LEGO creations to life, and our chief ambition for LEGO BOOST is to fulfill that wish. Once children build a LEGO creation, we give them simple coding tools to 'boost' their models by adding personality," Simon Kent, design lead for the LEGO Group. "We want children to first and foremost have a fun and limitless play experience, adding the coding opportunity is the means to get there."
Misty Robotics: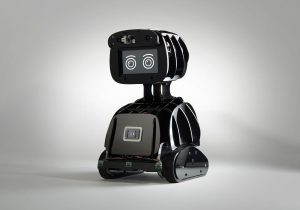 Misty Robotics is giving developers a new toy for programming. The company, a personal robot company spun out from Sphero, announced the limited availability of the Misty 1 Developer Edition prototype robot and software tools. This will be available to a select group of developers and inventors who will assist in creating useful skills for the next generation robot, Misty II, coming out later in 2018. The robot creates skills that leverage APIs for auto navigation, seeing, hearing, and speaking capabilities.
"By creating and fostering a strong developer community, we expect to enable tens of thousands of useful skills for the Misty personal robots at a consumer-friendly price," Ben Edwards, head of community at Misty Robotics. "We're very excited to discover and cultivate the many ways people will create, innovate, and extend these robots and the platform in their own homes and offices."
Root Robotics:
Root Robotics revealed a coding toy robot called The Root. The robot does not only teach toddlers how to code, but the complexity level increases as kids grow in understanding. The robot will be available on both iOS and Android, and will launch in June of 2018.
The product will have three different levels. The first level is called graphical programming, kids will be tested one function at a time and can chain functions together with drag and drop controls.  The second level will demonstrate how function paths work and expand their understanding of coding. The third level unlocks full text coding capability that supports Javascript, Python, and Swift coding languages.
Samsung: 
Samsung outlined its vision and strategy for intelligent Internet of Things experiences from now until 2020. The company took the CES stage to demonstrate how users can create consumer experiences through its devices at home, at the office and on-the-go. The goal is to make Samsung products IoT ready by 2020.
Hyunsuk (HS) Kim, above, president and head of Samsung's consumer electronics division and Samsung research, said: "We're committed to accelerating IoT adoption for everyone and making all Samsung connected devices intelligent by 2020. These advancements will help consumers realize the benefits of a seamless and simple connected life."
Samsung also introduced the DRVLINE platform, which positions the company as the go-to partner for Original Equipment Manufacturer (OEM) and Mobility as a Service (MaaS) providers in the autonomous driving market. The platform is an open, modular, and scalable hardware and software-based platform that combines the best available technology into new vehicles as a building foundation for the future.
"Building an autonomous platform requires close collaboration across industry, as one company cannot deliver on this enormous opportunity alone. The challenge is simply too big and too complex. Through the DRVLINE platform, we're inviting the best and brightest from the automotive industry to join us, and help shape the future of the car of tomorrow, today," said Young Sohn, president and CSO at Samsung Electronics, and chairman of the board at HARMAN.