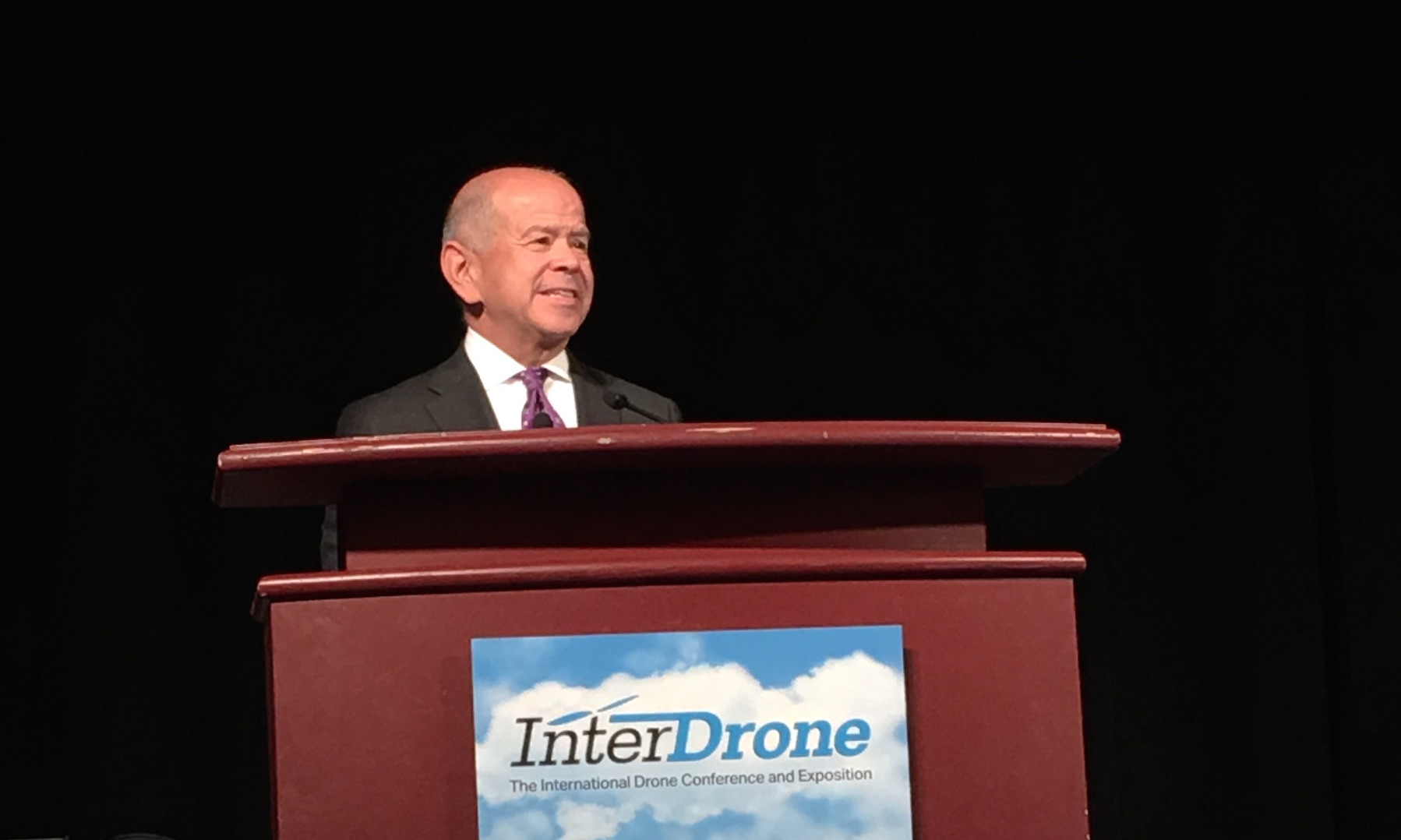 The aviation industry has always been fueled by pivotal moments, but perhaps the biggest milestone in its history is happening today with the emerging industry of unmanned vehicles, also known as drones.
"We all have to agree that drones have fundamentally changed aviation, and have changed society as a whole," said Michael Huerta, the administrator of the Federal Aviation Administration (FAA). He presented the grand keynote at the second annual InterDrone conference in Las Vegas today.
(InterDrone is produced by BZ Media, the publisher of SD Times.)
According to Huerta, there are about 320,000 registered manned aircraft today, and it took 100 years to reach that number. In less than nine months since the administration put the drone registration process in place, there have been more than 520,000 registered hobbyists (and close to 550,000 if you add commercial users).
(Related: Intel targets developers with new drone)
The success of the rapidly growing industry is due to the collaboration between the federal government, stakeholders and the industry as whole. According to Huerta, when people talk about these accomplishments, they aren't just talking about the FAA's success or the industry's success alone. "We are talking about something we did together," he said.
"Despite our sometimes different viewpoints, we all agree on one thing, and that is we want to see safe the integration of unmanned aircraft," said Huerta. However, in order to support that safe integration of drones, the FAA needs to ensure it isn't stifling innovation. "We know that when we are flexible in our approach to integration, we open up greater opportunities for more kinds of [innovation]," he said.
The FAA's official rule for the commercial use of unmanned drones, Part 107, went into effect last week. As part of the administration's flexible strategy, it has begun granting waivers to commercial operators who wish to operate beyond the rule. Huerta said the FAA issued 76 waivers the morning the rule went into effect, and it is issuing more and more every day.
The waivers include night operations and beyond line of sight. Huerta believed that by issuing these waivers, the FAA will not only be able to foster innovation, it will also be able to collect important information that will help guide the administration on future integration efforts. Huerta expected to see 600,000 drones used commercially in the first year after the rule is in place. "Drones are helping to create a whole new means of realizing what we call the American dream," he said.
The FAA's work doesn't stop at Part 107. The administration has to constantly evolve, change and grow to achieve a balance between accommodating innovation and ensuring safety, said Huerta. "We are trying very hard to stop moving at the speed of government," he said.
The FAA is already "laying the foundation for more numerous and more complex drone operations" by researching beyond visual line of sight operations, and by working on a proposal for unmanned aircraft flights over people which Huerta predicts will be out by the end of this year, said Huerta.
In addition, the administration is focusing more on areas like command and control, detection and avoidance, certifications, the impact spectrum will have, and how frequencies will be managed and allocated.
But with any new technology, drones present both opportunity as well as risks. So while the FAA aims to be flexible, it also has to ensure it takes strong enforcement when necessary. The FAA already has imposed civil penalties and has open investigations into reckless activities. Currently, the FAA is issuing a civil penalty of up to US$20,000 for drones that interfere with wildfire suppression, law enforcement, and emergency response.
The FAA is also partnering with the Department of Homeland Security to look into unmanned detection technology around airports, and to conduct a privacy education campaign.
"Integration is never going to be a finite process," said Huerta. "New minds will always be dreaming of new technologies, and new users for these technologies.
"There are going to be a lot of other key steps forward in the coming months, the coming years, and we can never stop working together to ensure integration is both safe and efficient."
This article was originally published on InterDrone News.