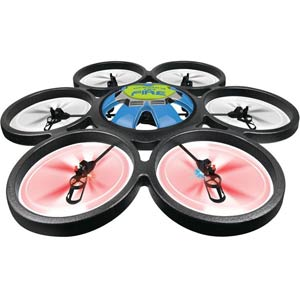 Drones are everywhere. Literally. My friend Steve, a wedding photographer, always includes drone shots. Drones are used by the military, of course, as well as spy agencies. They are used by public service agencies, like fire departments. By real estate photographers who want something better than Google Earth. By farmers checking on their fences. By security companies to augment foot patrols. And by Hollywood filmmakers, who recently won permission from the United States Federal Aviation Authority (FAA) to operate drones on a movie sets.
Drones can also be used for mischief, as reported by Nick Wingfield in the New York Times. His story, "Now, Anyone Can Buy a Drone. Heaven Help Us" described how pranksters fly drones onto sports fields to disrupt games and infuriate fans, as well as animal-welfare activists using drones to harass hunters and scare away their prey.
Drones are everywhere. My son and I were shopping at Fry's Electronics, a popular Silicon Valley gadget superstore. Seemingly every aisle featured drones ranging in price from under US$100 to thousands of dollars.
A popular nickname for consumer-quality drones is a "quadcopter," because many of the models feature four separate rotors. We got a laugh from one line of inexpensive drones, which was promoting quadcopters with three, four and six rotors, such as this "Microgear 2.4 GHz. Radio Controlled RC QX-839 4 Chan 6 Axis Gyro Quadcopter Drones EC10424." I guess they never thought about labeling it a hexcopter—or would it be a sextcopter?
As drones scale up from toys to business tools, they need to be smart and connected. Higher-end drones have cameras and embedded microprocessors. Platforms like Android (think Arduino or Raspberry Pi) get the job done without much weight and without consuming too much battery power. And in fact there are products and kits available that use those platforms for drone control.
Connectivity. Today, some drones are autonomous and disconnected, but that's not practical for many applications. Drones flying indoors could use WiFi, but in the great outdoors, real-time connectivity needs a longer reach. Small military and spy drones use dedicated radios, and in some cases, satellite links. Business drones might go that path, but could also rely upon cellular data. Strap a smartphone to a drone, and you have sensors, connectivity, microprocessor, memory and local storage, all in one handy package. And indeed, that's being done today too. It's a bird! It's a plane! It's a Samsung Galaxy S4!
Programming drones is going to be an exciting challenge, leveraging the skills needed for building conventional mobile apps to building real mobile apps. When a typical iPhone or Android app crashes, no big deal. When a drone app crashes, the best-case scenario is a broken fan blade. Worst case? Imagine the lawsuits if the drone hits somebody, causes an automobile accident, or even damages an aircraft.
Drones are evolving quickly. While they may seem like trivial toys, hobbyist gadgets or military hardware, they are likely to impact many aspects of our society and, perhaps, your business. Intrigued? Let me share two resources:
InterDrone News: A just-launched newsletter from BZ Media, publisher of SD Times. It provides a unique and timely perspective for builders, buyers and fliers of commercial unmanned aerial vehicles. Sign up for free.
InterDrone Conference & Expo: Mark your calendar for the International Drone Conference and Exposition, Oct. 13-15, 2015, in Las Vegas. If you use drones or see them in your future, that's where you'll want to be.
How will drones affect your business? Write me at alan@camdenassociates.com.