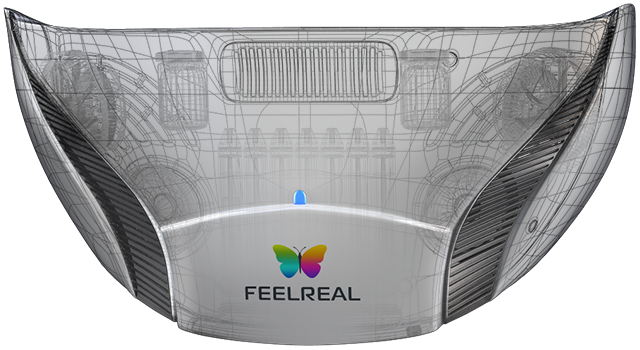 A new virtual reality Kickstarter campaign wants to do more than just bring users a computer-simulated environment; it wants to give them new sensations through those environments. FEELREAL has developed a VR mask and helmet that provides smells and senses such as wind, heat, water, mist and vibrations in virtual reality worlds.
"The idea to integrate smells came when we wanted to experience more when playing VR games or watching 3D videos in headsets," said Natalia Krasnyanskaya, marketing director at FEELREAL. "We were eager to create such devices that can let you smell flowers or [the] forest when playing Far Cry for instance, or feel wind when driving in GTA Vice City. We think it would be awesome when you watch such a great movie as 'Avatar' and enjoy [it] not only through visual effects but involving the rest of the senses."
The product has already reached its prototype phase, and the company is using Kickstarter to continue to test and experiment with it, according to Krasnyanskaya. The company is looking to raise US$50,000 to complete its mask.
"We made sure that Kickstarter has the same enthusiasts as we are, who are passionate in new technologies, and with their support they make you think you are not alone," Krasnyanskaya said.
Key features of FEELREAL's virtual reality mask include:
Bluetooth connection
A built-in rechargeable battery
Micro-coolers to generate wind flow
Micro-heaters that are embedded with temperature detectors
A vibration engine with adjustable vibration levels
An ultrasonic ionizing system to produce actual mist from water
A removable set of smell cartridges to generate odors
A built-in microphone
"The appearance of VR headsets gave us an initial taste of 'immersion,' but unfortunately their power is limited," the company wrote on its Kickstarter page. "They don't give you a fully realistic experience, as the headsets can only simulate sound and vision. None of them deliver a truly seamless, high-fidelity virtual reality experience."
According to FEELREAL, the mask can be paired with the Oculus Rift, the Samsung Gear VR, the Sony Morpheus and the Zeiss VR One. The company will also provide an SDK for developers who wish to integrate the company's smell and sensory technology into their own applications and games.
In addition, a stretch goal of $150,000 has been set for FEELREAL's NIRVANA VR helmet, which attaches to the FEELREAL helmet in order to provide a full virtual reality world with senses.
More information is available here.