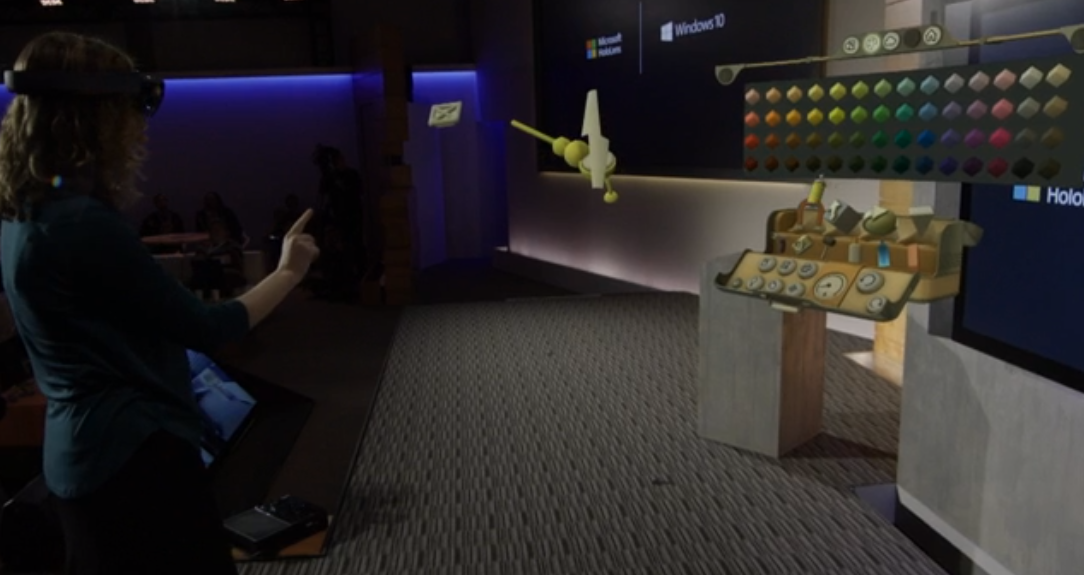 Microsoft is trying to make Windows a game changer, with the announcement of a completely new technology experience. While many companies have been jumping on the virtual reality bandwagon, the company has been secretly dabbling in holographic computing. At its Windows 10 event today, Microsoft introduced HoloLens, an augmented reality headset that allows users to interact with holograms.
"Don't get me wrong, I am really excited about all the progress being made in virtual reality, but virtual reality may not be for everyone," said Alex Kipman, technical fellow at the company's operating system group. "Welcome to a new era of Windows. Welcome to Windows Holographic."
Microsoft wants to use holograms to provide a new way for users to visualize work, share ideas, play, teach, learn, collaborate, explore and create, according to Kipman. The headset features a see-through holographic high-definition lens, spatial sounds, advanced sensors, and a new processer, the Holographic Processing Unit (HPU). According to Kipman, the HPU will be able to understand where users are looking, the gestures they are making and what they are saying.
"HoloLens enables holographic computing natively, with no markers, no external cameras, no wires, no phone required and no connection to a PC needed," said Kipman. "We believe Windows 10 will fundamentally make everything people do with computers today more valuable, more immersive, and more personal."
Along with HoloLens, Microsoft also announced Holo Studio, an environment that will allow users to create and 3D print their holograms. The HoloLens is expected to be available in the Windows 10 timeframe. NASA has already partnered with Microsoft to take advantage of the holographic experience.
Microsoft also introduced a new device developed entirely with Windows 10 in mind, one that was hiding in plain sight throughout the entire keynote. The company announced (and used for the presentation) a new 84-inch device joining the Surface family, the Surface Hub, which features speakers, WiFi, a camera, microphone, and advanced sensors. While the device isn't quite a tablet or PC, it seems to be designed as a business and collaboration tool.
"Windows 10 is so much more than the latest version of Windows," said Terry Myerson, executive vice president of operating systems at Microsoft. "Windows 10 changes the rules of the game and changes the relationship between us and our customers."
And as speculated, Microsoft announced plans for a new browser, codenamed Spartan. "We think it's the right time to build a new browser for the modern Web, which will empower our next generation of Windows users on Windows 10," said Joe Belfiore, corporate vice president of Microsoft's operating systems group.
The browser will feature a new rendering engine, new look and feel, Cortana, a note-taking mode, and a reading mode. According to Belfiore, the browser is not expected to be introduced to Windows Insiders for another three to five months, and it will be even longer for the browser to be introduced to phones.
Other key announcements included Cortana for the PC, a new action center, improved Word Flow keyboard with natural speech interaction, and built-in messaging support for IP-based systems.
"These are the kinds of magical moments we live for," said Satya Nadella, CEO of Microsoft. "We want to move from people needing Windows, to choosing Windows, to loving Windows."