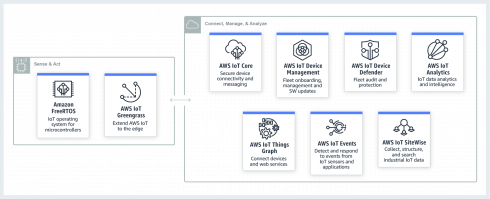 Amazon is giving developers four new services and capabilities for ingesting data from edge devices and building Internet of things applications. The company announced AWS IoT SiteWise, IoT Events, IoT Things Graph and IoT Greengrass Connectors.
"Customers tell us they want to spend less time on the undifferentiated heavy lifting of getting different devices and services to work together and more time innovating on full-featured IoT applications," said Dirk Didascalou, vice president of IoT at AWS. "We are giving customers tools that remove the cost and complexity of building applications at the edge with rich data sources to drive better business decision-making. This frees them up to spend time innovating in their core business, instead of writing code to connect devices and applications and to ingest actionable sensor data."
AWS IoT SiteWise is a managed service for collecting, structuring and searching IoT data and using it for analyzing performance. According to the company, it is focused on industrial facility devices and looks to analyze equipment as well as processes. IoT SiteWise is currently available as a preview. It is designed to prevent costly equipment issues and reduce gaps in production, Amazon explained.
AWS IoT Events is also available as a preview, and is a managed service for detecting and responding to events from IoT sensors and applications. It is designed for industrial, consumer and commercial customers. According to the company, it can detect things such as the temperature of a refrigerator and changes in equipment in real time.  
AWS IoT Things Graph is another service being released as a preview today. It enables developers to build IoT apps with little to no code through different devices and cloud services. "With AWS IoT Things Graph, developers can more easily build complex applications that automate home security, connect devices to an ERP systems for supply chain analysis, link an office tower's HVAC system to weather data services to reduce energy costs, and much more," Amazon wrote in its announcement.
Lastly, AWS IoT Greengrass Connectors is a new feature for AWS IoT Greengrass that enables web and mobile developers to connect to third-party apps such as ServiceNow for service management and Splunk for log analytics. This will enable alarms and notifications to be automatically set to service technicians as well as improve device logging, diagnostics, location-based services and repair and maintenance services, according to Amazon.