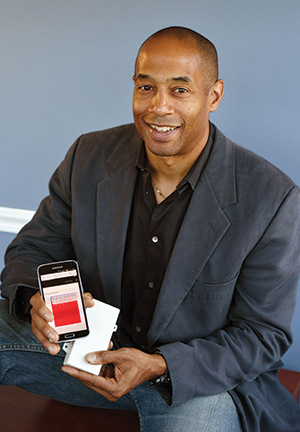 When computer scientist Derek Peterson was a 5-foot, 110-pound schoolboy, his daily school routine involved being stuffed in lockers by upperclassmen, weekly choking and constant wedgies just because of his size and weight.
"Being the smallest kid in school allowed everyone to feel free to take verbal and physical shots at me," he says.
Today, Peterson is an Ironman athlete who now stands at 6-1, and isn't letting bullies get away with it anymore. Peterson has dedicated his career to stopping bullying and violence across America with the creation of his company, Soter Technologies.
"The company name is inspired by Greek mythology, wherein 'Soter' is the personification of safety, deliverance, and preservation from harm. Using advanced sensors and software, Soter Technologies develops and delivers innovative solutions for environmental intelligence – to make the world a safer place… from schools to enterprises to public spaces," according to the company's website.
At the time of Peterson's schooling, the technology landscape was a lot different than it is today. Back then, there were no cell phones and the Internet wasn't available to everyone, so Peterson says it was difficult to report attacks without revealing himself. Unable to fight back or tell anyone about it, he quietly suffered.
"There is a saying, 'snitches get stitches,' so I couldn't speak out or report things. You didn't want to be known as a snitch so you would have to take a beating and shut up," he said.
To change this, him and his company are developing a number of hardware and software solutions in-house aimed at protecting and keeping students safe.
"We are looking to impact the world and change lives by keeping people safe one device at a time," Peterson says.
The team has developed Fly Sights, a social media awareness solution designed to keep track of harmful bullying and cyberbullying activity as well as any self-harm messages, and alert school administrators. According to Peterson, with Fly Sights the company was able to stop two youths from committing suicide last year.
Glue Board is the company's incident management application designed to give parents and students  a place where they can anonymously and confidentially report any bullying or harassment.
Peterson's most recent solution is Fly Sense, a sound and chemical detection solution that can indicate bullying and fighting in isolated areas where video cameras can't reach or are not allowed like bathrooms and locker rooms. In addition, Fly Sense is able to detect vaping and alert administrations of any concerns. The company is able to do this through the use of sensors and machine learning algorithms.
"At the end of the day it all made me a better person, because I learned to roll with the punches  (literally). I have learned to laugh at myself, because 90 percent of the time the school was laughing at me," he says.
How they made it work
Peterson and his team used an informal agile process to get everything up and running. They used tools like Trello to keep track of their tasks and Pulse to estimate out the most difficult task they were trying to accomplish, what customers needed the most and if it were possible to reach those goals given their timeframes. All the code was kept organized in a closed GitHub repository. While the team didn't have formal daily team meetings, they did make an effort to get the most important subset of team members together to talk about progress and maintain communication.
Additionally, since the team's solutions are Internet of Things-based, they had to make sure they were using SSL and SSH for their over the air updates and ability to send out notifications via email or text, and ensure the protection of their databases by replicating all their systems to provide backups and ways to shut people out if a hacker got in.
Lastly, Peterson would advise leveraging a younger generation of developers because they have a better sense of the new technology and languages available today.
"If you want to change the world, you have to find the problems. That is how you are going to change the world with your software," said Peterson