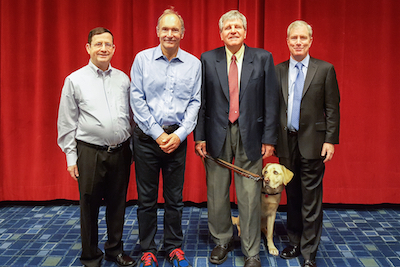 Two organizations dedicated to advancing Web technologies are considering putting their heads together to create one organization focused on the greater good of the Web. The World Wide Web Consortium (W3C) is known for its Web standard development efforts, while the International Digital Publishing Forum (IDPF) is known for developing and promoting electronic publishing and digital content consumption on the Open Web Platform.
The two groups announced they are discussing a plan to combine resources at the IDPF DigiCon at Book Expo America 2016 in Chicago. The organizations haven't announced any formal or final plans, but they revealed they are exploring their options.
(Related: Google to end support for OAuth 1.0 2-legged)
"We share an exciting vision for W3C and IDPF to fully align the publishing industry and core Web technology," said Tim Berners-Lee, director of the W3C. "This will create a rich media environment for digital publishing that opens up new possibilities for readers, authors, and publishers."
Members from both organizations have already been collaborating for the past three years on how the publishing industry could use their technology and expertise to help benefit the Web and Web technologies. "Whether it's EPUB content or social marketing and reader engagement, Web technologies are foundational to enabling digital content to be created, distributed globally, and viewed on any Web-enabled device as well as dedicated reading apps and e-reader devices," said Bill McCoy, executive director of the IDPF.
Before the organizations decide on any concrete plans, they will be accepting and looking into comments from their respective organizations and drafting up a Memorandum of Understanding. The IDPF and W3C hope to have a solution by January 2017, pending membership support and legal review.
"With the full participation of the digital publishing community, as well as the core Web platform developers, we accelerate the development of technology standards," said Jeff Jaffe, CEO of the W3C. "Early Web technologies did not meet the rigorous needs of authors and publishers whose curated content is crafted into books, journals and magazines with enhanced styling."