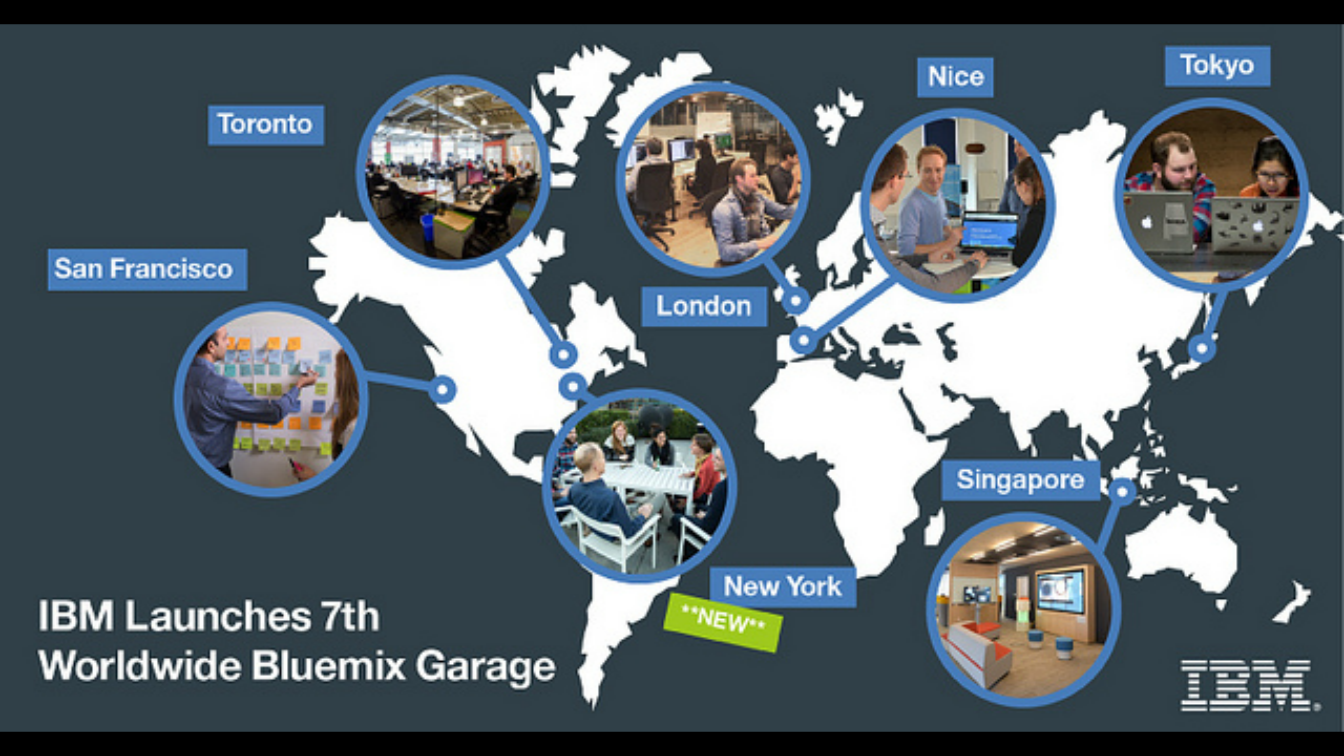 Blockchain innovation is taking over the NYC financial technology scene, which is why IBM has announced a new Bluemix Garage in New York specifically designed to help enterprises use blockchain technology on the cloud.
This new Garage can be found at Galvanize's newly launched New York campus, in New York City's SoHo neighborhood. This area has become a hub for startups, and the Garage is designed to help continue business development, hybrid cloud integration, and app development through its expertise in programming and DevOps.
Developers can use these Garages to continue their blockchain projects, which can "remove friction from financial transactions and prime blockchain to fundamentally change how markets function," according to IBM.
According to Jim Deters, cofounder and CEO of Galvanize, "Having IBM's Garage in New York City, within the Galvanize community, allows our strong network of developers and startups to leverage the power of the cloud and the expertise of IBM to competitively innovate products and apps in the growing fintech and blockchain spaces."
Other Bluemix Garages are located in San Francisco, London, Toronto, Nice, France, Tokyo, and Singapore. IBM plans to open more locations in late 2016.
Open-source advancements by Microsoft
At the Red Hat Summit in San Francisco, Microsoft made several announcements that showcased the company's commitment to the cloud, as well as digital transformation as a whole.
One announcement was the general availability of .NET Core 1.0 and ASP.NET Core 1.0. More than 18,000 developers representing more than 1,300 companies have been contributing to .NET Core 1.0, and the new version includes the first release of the .NET Standard Library, which allows developers to reuse their code for applications that run on the servers, cloud, desktops, and any Android, iOS or Windows devices, according to the company.
Microsoft also announced that Samsung is joining the .NET Foundation's Technical Steering Group. The company joins JetBrains, Red Hat and Unity.
On Thursday, Microsoft will demonstrate SQL Server 2016 running on Red Hat Enterprise Linux, and a livestream of the general session that includes a live demo will be available. At Red Hat Summit, Microsoft is also showing off its newly announced CloudForms 4.1, which advances support for Azure. Microsoft is also making available a new Azure Resource Manager template on GitHub, which will allow developers to deploy Red Hat's OpenShift on Red Hat Enterprise Linux in Azure, according to the company.
Compuware, XebiaLabs new integrations
Compuware has announced product updates and integrations that are designed to bring Continuous Delivery and DevOps to mainframe development, including new code deployment capabilities.
Compuware today announced ISPW Deploy, an advanced mainframe release automation solution that allows enterprises to bring Continuous Delivery to their IBM z/OS environments, according to the company.
Along with this solution, Compuware is also integrating with XebiaLabs, with its Continuous Delivery technology for cross-platform application release orchestration. With this integration, enterprises can include their core mainframe applications, data and infrastructure into their overall strategy.
With XebiaLabs' solutions suite and Compuware ISPW, enterprises can automation all phases of mainframe DevOps with the "same Continuous Delivery-management environment they use for their distributed, web and cloud platforms," according to the company.
Also with the integration, enterprises will be able to gain the following advantages:
Faster and reliable upgrades of applications that cover multiple platforms
Visibility into upgrade rollout timelines, which allows DevOps managers to locate bottlenecks in an end-to-end Continuous Delivery process
One-click rollback and restart for all application components
Reduced dependence on idiosyncratic mainframe ex