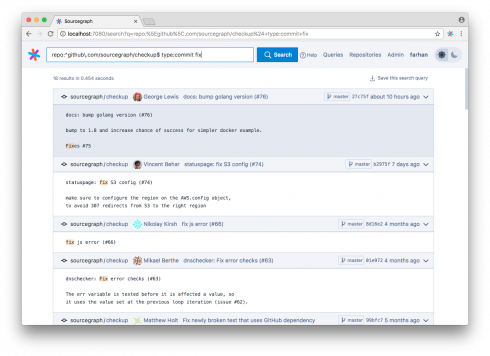 Sourcegraph is starting off 2018 with a new release of Sourcegraph Server. The self-hosted code server that combines with your code host and supports multi-repository, regexp, and diff searches, has announced the new and upgraded Sourcegraph Server 2.4 and it is now available.
"We're excited to announce the release of Sourcegraph Server 2.4, which brings fast, powerful code search to development teams. With this release, Sourcegraph Server is free for unlimited users and repositories on a single server, and can be installed with a single `docker run` command," the company said in a statement.
Server 2.4 provides a major upgrade. The new server has performance and bug fixes that provide a better interface for monitoring search results. The site admin area is now easier for administrators to configure and manage their Sourcegraph Server and can be installed within minutes.
The server has also introduced an easier way to understand the search interface. The saved search scopes will now appear as buttons on the search homepage, replacing the old scope dropdown. Users can also monitor changes in the saved queries on the homepage. It will show the current number of results and a graph of the number of results over time that make it easier for you to monitor any changes in your code from the homepage.
According to a recently published research paper from Google and a Google developer survey, it showed that 98% of surveyed developers consider the sourcegraph-like inter code search tool to be critical. Based on the information, surveyed developers use the tool on average for 5.3 sessions a day.
"Sourcegraph Server brings the power of code search to developers at every company, allowing them to ship better code faster," the company said in a statement.
The company also recently announced it had raised more than 20 million dollars in October to bring more live collaboration to coding.