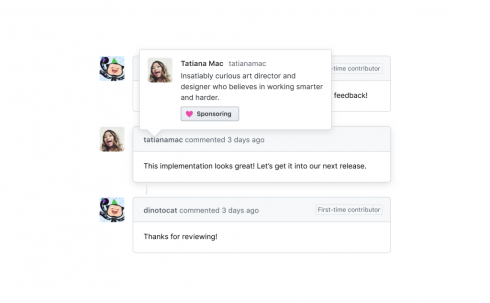 Code-hosting services and startups have been experimenting with different ways to get open-source users to pay open-source developers for creating valuable code. While funding services such as Patreon and Tidelift have been around with their own models, the largest open code hosting service GitHub is now on board with the beta announcement of GitHub Sponsors.
GitHub Sponsors lets open-source users directly sponsor developers. As part of the new platform, GitHub also announced its Sponsors Matching Fund that will match all contributions up to $5,000 during a developer's first year using the service. The platform will have zero transaction fees for a year after its launch.
RELATED CONTENT: Open source at 20: The ubiquity of shared code
In an integrated fashion, users can hover over a contributor's name when they directly answer a question, triage issues or merge code and directly sponsor them from there, according to the company.
The scope of GitHub is massive with companies like Microsoft and Google primarily shifting to the service to host their own projects, followed by Microsoft's acquisition of GitHub in 2017 for $7.5 billion last year.
"The world runs on open source. None of it would be possible without the global team of maintainers, designers, programmers, researchers, teachers, writers, leaders—and more—who devote themselves to pushing technology forward," wrote Devon Zuegel, an open source product manager at GitHub, in a blog post. "These extraordinary developers can now receive funding from the community that depends on their work, seamlessly through their GitHub profiles."
The spread of these funding services will incentivize developers to keep coming back to open source code and contributing and maintaining more often.