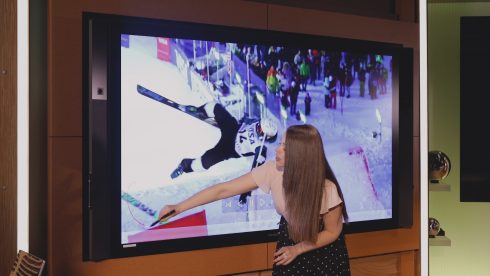 Sports television viewership is down. Last year, NBC's coverage of the National Football League averaged 18.2 million viewers, the lowest since 2008. Major League Baseball's ratings for the World Series were down 19 percent from the previous year, while the average time of a nine-inning game increased to a record 3 hours, 5 minutes and 11 seconds. Nascar's 2018 Daytona 500 saw a dramatic decrease in viewership, with an overnight rating of only 5.1 — the worst overnight rating in the race's history.
However, two companies are looking to increase sports viewership with a joint venture that they say will create a more immersive viewing experience for fans. Teknikos, a software solutions company, and neo 360, a mobile video control technology developer, have created Capticast, a platform designed to give fans more control over what they watch.
According to David Borish, CEO and co-founder of neo 360, the integration of the two companies took two months and was officially launched at NAB 2018 in April at Las Vegas, Nevada. "I met the founder of Teknikos, Jason Hartman, late last year. When he saw our neo 360 player, he immediately knew combining the two products would make sense," Borish said in an interview with SD Times. "Since neo 360 had not yet launched a product for large touch screens, I also felt the joint venture made complete sense for both companies."
The joint venture combines SHARE, a Teknikos-developed platform that integrates interactive content, images, videos, and maps into a single camera-ready presentation for display on Microsoft's Surface Hub; and the new 360 Air, an all-in-one video encoder and player that enables users to control video speed, direction, and frame-by-frame playback using simple touch commands. For example, this will enable broadcasters to deliver multimedia stories in a single application including videos that can be fully controlled with a touch of the screen while live on-air.
"As broadcast news organizations fight to maintain market share in the face of online competition, they need more engaging storytelling that capitalizes on the live nature of the on-air experience. Capticast SHARE delivers those capabilities in a single powerful package," said Borish.
The SHARE platform enables multimedia segments to be easily assembled in the control room, which can then be delivered on air with annotation, zoom and other tools that leverage the Surface Hub's telestration, manipulation, and navigation abilities. The systems that are used for this include the Associated Press Electronic News Production System (AP ENPS), a multimedia content production system that allows users to create content for broadcast or digital platforms from any location.
This will result in an interactive presentation that eliminates the need for users to switch apps, ad interruptions and loading content.
The platform can be used live on-air by the sportscaster to show replays along with the telestration capability to write directly on the screen, and various angles to zoom in and zoom out. "The platform can have control over the play on screen," said Borish. "This is good for the news side of things. It can be used for more of a story and a play-by-play."
Currently, MLB is showing Facebook live games every Wednesday, but it has seen mixed results. Viewers have pointed out that lags in streaming and what they say is an oversized scoreboard distract from the game. However, commenting throughout the game on social media was received positively, and can be the key factor in viewer uptake because viewers can make requests of the broadcasters about which plays to show again and break down in real-time.
"Any live broadcast will benefit because the sportscaster can give their take and frame-by-frame of the play versus someone from the booth choosing what to show and the sportscaster only commenting on it," said Borish.
Let's go to the videotape
Last year, there were more than 1,395 video reviews with only 660 umpire decisions overturned (47.31%). That number was down from the previous year, which has more than 1,502 reviews. However, the problem is with the process used to reach the correct call.
Once a team declares  it wants to review a play, the umpire must get  a headset to contact MLB Advanced Media in New York City to look at the play. Then, everyone involved has to wait until a decision is made, and that can take five minutes or more, slowing down the game for viewers. The platform may eliminate this because the replay official, in the stadium,  could now break down the play from various angles on a mobile device and can come up with a decision faster and perhaps more correctly.
"When you take a clip of a play, Capticast can provide a better look at it," said Borish. "For example, baseball uses the highest frame rate and allows you to really break down plays. This can be a solution to game-saving calls for umpires as there would be less controversial calls."
For sports fans, the companies might have hit this one out of the park.