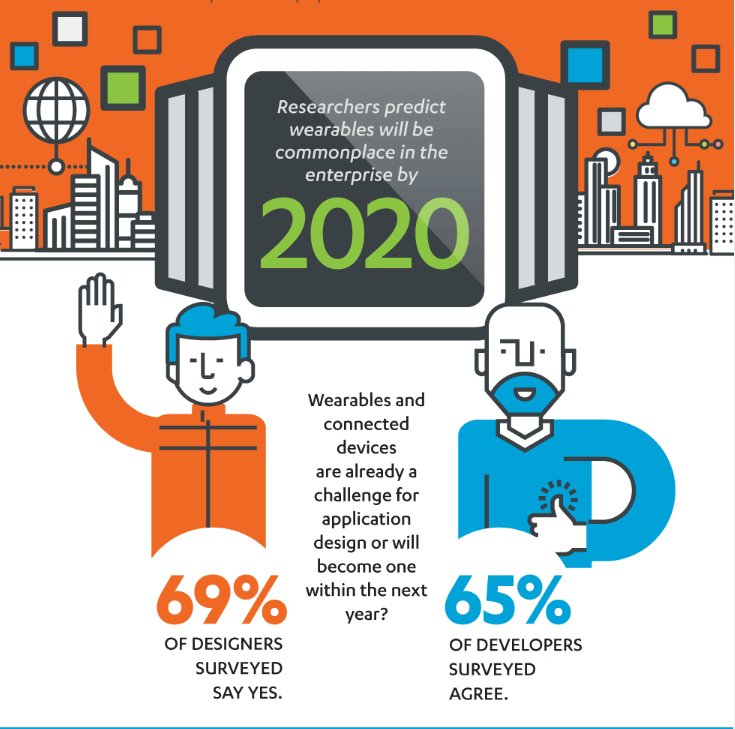 New devices (such as wearables) and architectures (such as the Internet of Things) are creating opportunities for businesses and innovation points for developers. But they are also creating new and severe headaches. According to a recently released report, 65% of developers and 69% of designers feel wearables and connected devices are already a problem, or will be one in the next year.
The report, "Wearables and Connected Devices: The Next Frontier in Cross-Platform Mobile Development," was released by enterprise mobility solution provider Kony.
"Developers and designers are struggling to meet the demands of stakeholders and end users when it comes to designing and developing apps for these new kinds of devices," according to the report. "Compared to smartphones and tablets, creating apps for wearables and other connected devices can be challenging due to unusual screen form factors and the need to engage with users for a shorter amount of time."
(Related: Looking at IoT through biomimetics)
According to the report, some of the biggest challenges in mobile app development include poor communication, a complex omnichannels for development and testing, a lack of resources, and a lack of vision. Despite the challenge, 64% of respondents predicted they will be building two to four mobile apps in the next year.
The demand for wearables and IoT devices is only going to get larger with time. According to a research report conducted by Gartner earlier this year, "More than half of major new business processes and systems will incorporate some element of the Internet of Things by 2020." In addition, the technology research firm predicted wearable sales will grow by 18.4% this year, and smartwatch adoption will grow 48% in 2017.
In order for developers and businesses to successfully develop solutions for multiple devices and operating systems, Kony recommended they democratize processes and invest in low-code solutions.
"To meet this demand, designers and developers need next-generation creative tools that allow them to more easily adapt their apps to a broader range of interfaces, screen sizes and capabilities," said Dave Shirk, president of products, strategy and marketing at Kony.