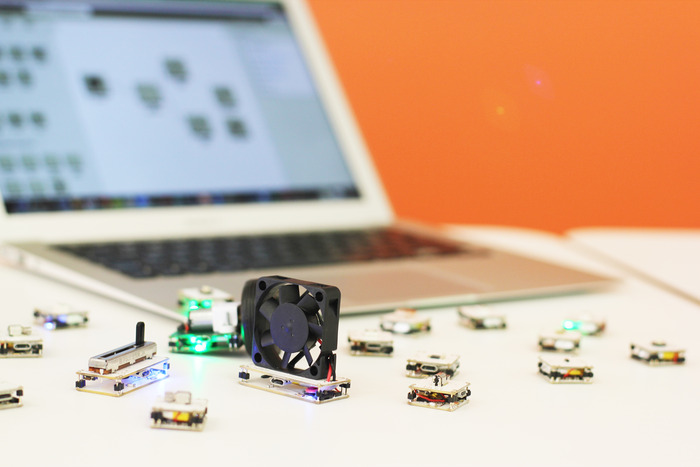 SAM: The electronics development kit
A new Kickstarter project wants to close the gap between software development and hardware development. SAM is an electronics development kit that integrates hardware, software and the Internet to make it easer to learn about electronics, the Internet of Things and coding.
"SAM is for anyone who wants to create games, products, apps, and get a head start in the Internet of Things. For the beginner to learn about technology, engineering and coding. For the experienced inventor to accelerate their innovations," according to the project's Kickstarter page.
With SAM, users can build games, music and architectural models, as well as learn electronics engineering, programming and how to make use of the Internet of Things.
DevExpress takes over maintenance of AJAX Control Toolkit
Software development company DevExpress has taken the reins of the AJAX Control Toolkit, as Microsoft hands off the open-source project to a party more ready and willing to fix issues.
The AJAX Control Toolkit for ASP.NET contains more than 40 controls to enable creation of AJAX-enabled Web applications in using tools and IDEs such as the .NET Framework and Visual Studio. The first priority of DevExpress is to add tests and remove half-finished changes to get the toolkit in stable condition before planning new functionality.
DevExpress made clear the project will remain open source, and the first maintenance changes should be expected in early 2015. More information is available on the company's blog.
The Ford-Mozilla Open Web Fellows program
Mozilla is launching an initiative to protect the free and open Web, and it is looking for people to join. The Ford-Mozilla Open Web Fellows program is calling for applicants and leaders who want to influence and inform public policies that impact the Internet. Fellows will work as technology advisors, mentors and ambassadors to host organizations such as the American Civil Liberties Union, Amnesty International, Free Press, the Open Technology Institute, and Public Knowledge.
"The Internet has the potential to be the greatest global resource in the history of the world, accessible to and shaped by all people," wrote Mark Surman, executive director of the Mozilla Foundation, on its blog. "But continuing in that direction isn't guaranteed without help. For all the good that can come from the Internet, in some areas it is already being used to weaken society and concentrate power in the hands of the few, and to shut down democratic discourse."
Linux Foundation launches the Open Platform for NFV Project
The Linux Foundation has announced a new project aimed to speed up cloud-based delivery models for operators, allow interoperability, and accelerate standards. The Open Platform for Network Functions Virtualization Project (OPNFV) intends to establish a open-source reference platform that would allow industry peers to work together on advancing the evolution of NFV and guarantee consistency, performance and interoperability among open-source components.
"Open-source code has been proven to accelerate innovation and time to market for new technologies," said Jim Zemlin, executive director at The Linux Foundation. "The Open Platform for NFV will bring together providers, cloud and infrastructure vendors, developers, and users alike to define a new type of reference platform for the industry, integrating existing open-source building blocks with new components and testing that accelerates development and deployment of NFV."