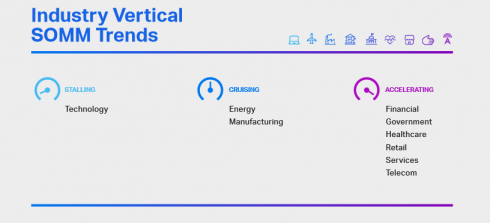 As the volume of security threats rises, so is the efficiency of Security Operational Centers (SOC) used to combat against security breaches. A newly released report from Micro Focus found a 12 percent improvement in SOC maturity, the biggest improvement over the last five years.
The report is based on the company's Security Operations Maturity Model (SOMM), and findings from 200 assessments of 144 discreet SOCs. It is designed to look at the capabilities and maturity of cyberdefense organizations worldwide. According to the company, this is the first time since the report's publication that all assessment areas are showing significant improvements.
The report found that 20 percent of the cyberdefense organizations assessed failed to score a Security Operations Maturity Model (SOMM) level 1. According to the company, this means a complete lack of capability. This is due to ad-hoc approaches in security and risk management practices.
"Over the last five years, we have watched organizations attempt to achieve a complete security transformation by applying Band-Aids – such as the purchase of peripheral products or dismantling of solutions – only to find poor results and poor business alignment," said Matthew Shriner, vice president of security professional services for Micro Focus. "With that in mind, it is refreshing that when it comes to cyberdefense capability, Micro Focus is seeing a much higher degree of operational sophistication than ever before. Nearly 25 percent of organizations assessed are meeting business goals, representing a nearly 10 percent year-over-year improvement."
Other findings of the report included: SOCs are running short on personnel, SOAR (security, orchestration, automation and response) solutions are being adopted, private sectors are investing in fusion centers and the use of deception grids and impact on operations maturity is increasing.
"The detection and response capability of organizations continues to shift and to evolve. Yet, no matter at what capability stage you are at by now it should be evident that there is no quick fix product or service that can provide the protection and operational awareness your organization needs. Successful security operations programs require an assessment of the risk management, security, and compliance objectives of the organization and the active tuning of the solutions deployed," the report stated.