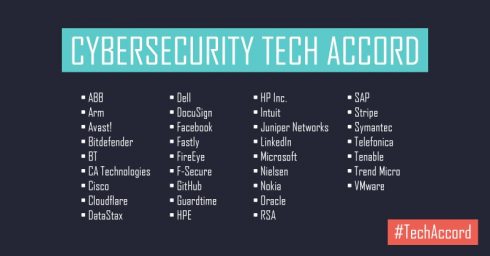 Thirty-four technology and security companies have made a public commitment to protect, improve, and empower online users. The Cybersecurity Tech Accord is a global agreement among companies pledging to defend against the misuse of their technology, and safeguard users from malicious attacks.
"The devastating attacks from the past year demonstrate that cybersecurity is not just about what any single company can do but also about what we can all do together," said Brad Smith, Microsoft president. "This tech sector accord will help us take a principled path towards more effective steps to work together and defend customers around the world."
The Tech Accord includes signatures from: ABB, Arm, Avast, BitDefender, BT, CA Technologies, Cisco, Cloudflare, Datastax, Dell, DocuSign, Facebook, Fastly, FireEye, F-Secure, GitHub, GuardTime, HP, HPE, Intuit, Juniper Networks, LinkedIn, Microsoft, Nielsen, Nokia, Oracle, RSA, SAP, Stripe, Symantec, Telefonic, Tenable, Trend Micro, and VMware.
Through the pledge, the companies plan to tackle four cybersecurity areas: stronger defense, no offense, capacity building, and collective action.
As part of stronger defense, the companies will protect all customers globally regardless of the motivation for cyberattacks.
The companies promise not to help governments launch cyberattacks against innocent citizens and enterprises, and will protect against the tampering or exploitation of their products and services.
In addition, the companies plan to empower developers, users and businesses as well as improve their abilities to protect themselves through security practices and new features.
Lastly, the companies will continue to improve existing relationships and establish new formal and informal partnerships with industry, civil society and security researchers. According to the accord, this will help improve technical collaboration, coordinate vulnerability disclosures, share threat and minimize the potential for malicious code to be released.
The first Cybersecurity Tech Accord meeting is expected to take place this week at the RSA security conference in San Francisco.
"Protecting our online environment is in everyone's interest. Therefore we – as enterprises that create and operate online technologies – promise to defend and advance its benefits for society. Moreover, we commit to act responsibly, to protect and empower our users and customers, and thereby to improve the security, stability, and resilience of cyberspace," the companies wrote on  the Cybersecurity Tech Accord's website.