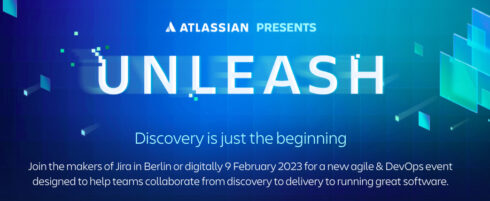 Struggling with Agile and DevOps implementations? Wondering what the best practices for success are?
Join Atlassian on Feb. 9 for a live (in Berlin, Germany) and virtual event called Unleash, at which the company's customers will describe how they achieved greater efficiency and faster time to software delivery.
According the Megan Cook, head of product, Agile and DevOps, at Atlassian, the event will "flip typical conference formatting on its head" by showcasing those customers that have "optimized their workflow with innovative toolchain solutions, and collaborated from discovery to delivery to build some of the most successful brands and businesses in the world."
Attendees at Unleash will have the opportunity to engage with Atlassian product leaders such as Cook; Joff Redfern, Atlassian chief product officer; and Justine Davis, head of marketing, Agile and DevOps. In the keynote, they will highlight software development best practices, announce a new Atlassian product, and share the first look at new feature innovations across Jira Software, Jira Work Management, Atlas, and Compass.
That keynote, titled "Level up to multiplayer mode," will describe how Atlassian connects every member of software teams, with new ways to track insights and ideas in the discovery phase, tighten security during the delivery phase, and manage projects more efficiently using a few "cheat codes" added to Jira Software. "It's time to level up and enter a new era of multiplayer, multi-phase software development," Cook said.
"This event really puts customers at the center," Cook told SD Times. "Not only will we showcase some amazing customer stories in the keynote, but they'll also present their unique use cases and Atlassian stories throughout the event. Attendees will be the first to learn about the new product we're launching at the event, and will engage with Atlassian product and company leaders on the event floor. It's not your average tech conference."
Unleash will also feature an exhibit hall where Atlassian customers will showcase their workflows and toolchains. Virtual attendees will be able to watch the demos on demand.
The day will conclude with the finale of the first-ever "Devs Unleashed" hackathon, with the finalists showing their projects to a celebrity panel and $93,500 in cash prizes at stake. Registration for the hackathon remains open until Jan. 15.
There is no charge to attend Unleash.