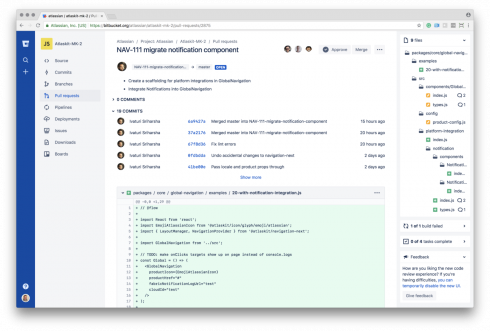 Atlassian is taking a code-first approach in its version control repository hosting service. The company announced a redesign of Bitbucket's pull requests and a focus on modernizing code review at its annual Atlassian Summit in Barcelona today.
According to the company, as software development keeps changing, so do the tools and approaches developers use. Pull requests have been redesigned with new navigation and UI for collaboration and more effective reviews. According to Atlassian, early users have already seen a 21 percent improvement in code reviewers' "time-to-approve."
"A code-first, single-page design helps reviewers find the information they need faster than viewing an activity feed like you'd see in other products," the company wrote in a post.
The company also announced new integrations for its continuous delivery tool Bitbucket Pipelines. The tool is now integrated with Jira Software for visibility and traceability across the development lifecycle. "Now you can see which Jira issues are associated with each deployment from the Bitbucket Deployment dashboard, and get the context you need to deploy frequently," the company wrote.
Atlassian plans to extend Jira integration for build and deployment status across project managers, support, QA and marketing teams. The team believes this will help track and manage the stages and status of features.
In addition, the company touched on its ongoing partnership with Slack. As part of the companies integrations and access to Atlassian apps such as Jira, Bitbucket and Trello, the company announced the Confluence Cloud app for Slack to keep up-to-date with the daily work happening in Confluence. This new app will enable teams to customize and receive notifications, see link previews, and take action on content.