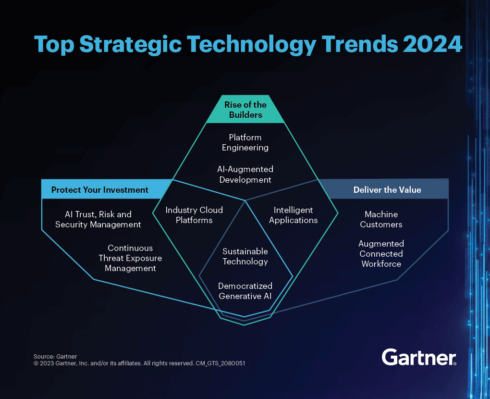 Gartner is predicting that in 2024, companies will be exploring methods that will help ensure their investments are protected for years to come.
Every year the company puts together a list of 10 trends it believes will take hold in the tech industry in the following year.
This year, five of those trends fall into the category of protecting technology investments. According to Gartner, the key to achieve this protection is to be deliberate by stopping uncontrolled experimentation without sufficient direction, be realistic by calculating the ROI of projects, and tailor innovations with reuse in mind. 
Trends that align with this include AI Trust, Risk and Security Management; Continuous Threat Exposure Management; Industry Cloud Platforms; Sustainable Technology; and Democratized Generative AI.
The company grouped trends into two other categories as well: "Rise of the builders" and "Deliver the value."
Gartner believes companies can unleash the creative power of everyone building software by developing a roadmap that allows nonspecialists to create applications, working closely with business stakeholders, and using technology that fits their industry, organizational needs, and specialist workers.
The trends that fit this theme include Platform Engineering, AI-Augmented Development, Industry Cloud Platforms, Intelligent Applications, Sustainable Technology, and Democratized Generative AI. 
Delivering value is the final theme, including the trends of Machine Customers, Augmented Connected Workforce, Intelligent Applications, Sustainable Technology, and Democratize Generative AI.
Gartner recommends organizations expand options for driving revenue by adjusting to changing internal and external customer demands, including approaches for algorithm-based customers, and facilitating across to evolving digital tools, such as those related to generative AI or upskilling. 
"Technology disruptions and socioeconomic uncertainties require a willingness to act boldly and strategically enhance resilience rather than rely on ad hoc responses," said Bart Willemsen, VP analyst at Gartner. "IT leaders must ensure calculated risk, and make reliable and durable investments to sustainably enable both internal and external value creation."