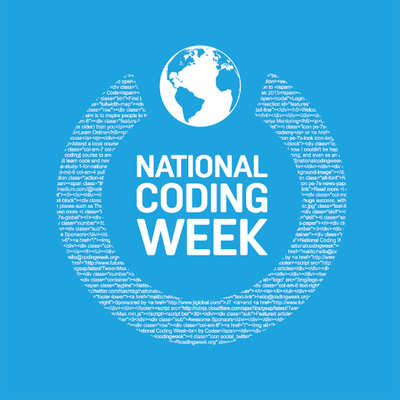 There are hundreds if not thousands of efforts going on every year to get more people into the world of computer science. For instance, every year Computer Science Education Week kicks off with its Hour of Code to get students to dedicate one hour to coding. This week the National Coding Week kicks off, and unlike Computer Science Education Week, this event is meant to engage everyone of all ages in digital events and coding.
National Coding Week was launched in 2014 by Richard Rolfe. When Rolfe was 49, he was diagnosed with cancer. Up until then, he enjoyed his career as a teacher, but decided if he was going to survive, he was going to try something new in the next stage of his life. A former student of his had been working on a web development business that intrigued Rolfe. He decided to learn how to write code for himself, but in the end he learned a more valuable lesson.
"It struck me that whilst there was government investment in a new computer science curriculum for schoolchildren, there wasn't enough being done to support adults. My concern was there wasn't enough being done to support teacher training, especially for non-specialists. Parents and governors needed training too. It was also obvious to me that most people aren't in education so I wondered what was being done to support and retrain those who had missed out on digital skills training or for older people who wanted to switch career or become more cybersecure," he wrote in a post.
So, after developing training initiatives for adults —  — including teachers, parents, business leaders and the unemployed — National Coding Week was officially underway.
Recently, Rolfe also began working with Jonathan Channing. At the age of 19, Channing found himself with no qualifications, no job and was diagnosed with autism. He decided to attend a one-week coding course in November 2014 and quickly gained the confidence and skills to embark on his own web design business.
After his own positive experience with coding, he decided to join the National Coding Week initiative to help others find their passion. Channing is currently the founder of Cobra Coding and head of strategy for the National Coding Week. "I always knew I was unconventional in thought and execution," he said in a post. "And I'd already [begun] to suspect I was autistic. But I see autism as an advantage in my future career  —  seeing the world from a different perspective and thinking differently has advantages!"
National Coding Week provides training toolkits to schools, libraries, businesses, hubs, individuals and meetups. The toolkits include tips, ideas and advice for holding events, according to Rolfe.
What the industry is saying about National Coding Week and the need to develop developers:
US Signal:
"The ability to code is essential in today's job market, especially in a world where one-size-fits-all IT infrastructure solutions seldom satisfy companies' unique business requirements. In the workplace, developers have the skillset to empower hybrid IT strategies, creating a diverse mix of IT environments and technologies through their code. During National Coding Week, it's important to recognize the vitality of learning to code, and the valuable impact that coding has on fast-changing businesses. Coding is powerful, and in the future, it will continue to push our digital world to new levels of innovation, " said Matt VanderZwaag, director of product development at US Signal, an IT solution provider.
WhiteHat Security:
"As the pace of global cybercrime continues to grow, the demand is outpacing the supply of security professionals who can help combat the ever-increasing threat. Cybersecurity Ventures estimated the total of unfilled security jobs is expected to reach 3.5 million by 2021. In the face of rising demand and a limited supply of security professionals, companies are forced to put added pressure on security and developer teams, who in turn, suffer job fatigue and stress, by working longer hours for their growing workloads.
With the problematic shortage in security, organizations are consistently operating understaffed, and team members don't have time to train for advanced skills like security analytics. This forces more experienced team members to pick up slack, adding to job fatigue and stress. Moreover, many security professionals desire to have a real impact on the world, becoming emotionally invested in their jobs, which consequently adds to stress levels. As a result, burnout is a real phenomenon in security and software development. Professionals can combat this dilemma and achieve a work-life balance through a variety of strategies:
Food, exercise, sleep – Carve out times in the day to nourish the body, as well as the brain, with exercise, enough sleep and a healthy diet. It's unrealistic to be productive throughout the day, without resting or eating healthy foods.
Collaborate and Delegate – It's easy to get burnt out when you are acting as the sole point of contact on a project. Teams are there for a reason, so collaborate and delegate items among other team members.
New hobbies – Spending all day coding, and then going home and coding for personal enjoyment can turn into burnout quickly. Spend less time coding recreationally, and instead focus on new hobbies thatcan encourage creativity.
A DevSecOps approach – Bridge the gap between security and DevOps, through a DevSecOps approach to ensure teams can find vulnerabilities before cybercrime can ensue. By uncovering and remediating vulnerabilities, professionals can solve problems before they arise, minimizing the extra burden of security," said Eric Sheridan, Chief Scientist, WhiteHat Security.
Cradlepoint:
"The last two decades have been shaped by pervasive connectivity, the Internet, and Web 2.0 technologies. This era has given rise to ecommerce titans like Amazon, hyper-growth SaaS platforms like Salesforce.com and Workday, and media and content ecosystems like Apple. We are now entering a new epoch driven by big data, semantic computing, machine learning and artificial intelligence, and 5G.
So, what does this all mean for coders? First, software developers need to be bigger continuous learners than ever before as these new technologies bring with them new programming paradigms, new open source ecosystems and new tools. Secondly, data, algorithms, neural networks and natural language processing are becoming deeply intertwined in code, requiring more end-to-end systems knowledge than ever before. For those seeking a career in technology, the need for data scientists will continue to outstrip demand as the world is currently generating 2.5 quintillion bytes of data a day," said Todd Krautkremer, CMO, Cradlepoint.