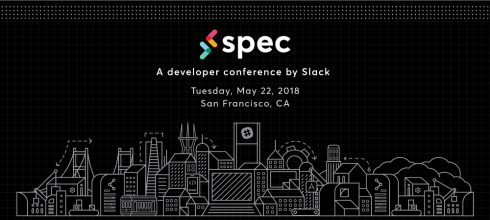 Slack announced new tools developers can add into their existing workflow at its first developer conference Spec in San Francisco today. The company revealed actions, a new way to provide deeper integrations with development tools and the Slack collaboration solution.
With Actions, developers can turn messages into tasks, comments, or follow-ups as well as attach messages to tickets. In addition, users can now save any information in order to review later.
"Connecting your tools with Slack brings important information front and center in your Slack channels for the whole team to see. And now with Actions​, you can turn any Slack message into a follow-up or next step, so nothing falls through the cracks as you go about your day," the company wrote in a post.
The company has partnered with Jira, Bitbucket, Asana, Zendesk, and Hubspot to make Actions possible. Asana and Slack can be used to keep projects organized and on track. With Jira Cloud, developers can add discussions from Slack as context to a Jira issue. Integration with HubSpot enables teams to collaborate and turn messages into tasks. Additionally, Zendesk and Slack will help users resolve issues faster and Bitbucket Cloud integration gives developers more context and the ability to take action on code repositories without leaving the Slack channel.  
"Actions make it quick and simple to kick off the next step in your work, so nothing gets lost as you go about your day and projects aren't needlessly delayed," the company wrote.
Going forward, the team plans to add more Actions integrations with Pocket, Guru, ToDo and Teamline.
In addition, the company celebrated new growth and momentum at the conference.
"When we say that Slack is a collaboration hub, we don't just mean people sending messages to one another, but more broadly, the work enabled across teams and the many business systems, data and applications that power productivity for our customers around the world. When all of these elements come together in Slack, that's when we truly deliver as a collaboration hub — and our developers and partners are what make it a reality," the company wrote in a post.
Since the Slack platform was introduced three years ago, 94 percent of paid teams on SLack use apps and integrations, developers have built custom integrations, and the ecosystem has grown with partners such as Dropbox, Google, and Workday.
The company also announced six new investments through the Slack Fund, the company's investment fund. These investments include Aptly, Clara, Learnmetrics, Pullrequest, Zylo and Epistema.
Other announcements included the upcoming release of Block Kit, a UI toolkit for developers. " The kit will provide standard designs for things like date pickers, task objects, overflow menus, and more, to make apps both more powerful and easier to use," the company wrote.