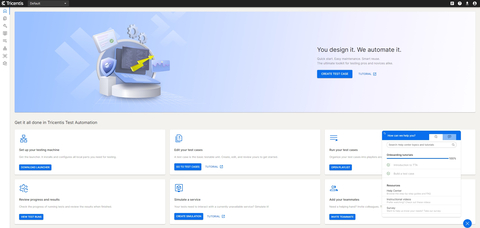 Tricentis Test Automation is a new SaaS-based solution that supports enterprise app, API, and business process testing. 
"While organizations are building their businesses and deploying applications on the cloud, most teams are constrained by legacy processes which are creating slow, error-prone, and costly challenges due to the lack of a viable cloud-based testing solution," said Suhail Ansari, the chief technology officer at Tricentis. "Tricentis Test Automation enables organizations to automate end-to-end quality for their integrated cloud-based solutions with faster speeds, no-code, and reduced test maintenance costs."
Businesses can use it to test end-to-end business processes and complex business applications. They can also verify quality across their integrated platforms. 
The user-friendly SaaS-based solution allows users to quickly create automated tests without prior coding or test automation knowledge, ranging from functional UI to API/microservices testing and enables them to scale up accordingly.
With model-based UI test automation, users can build codeless, resilient, automated tests through a unique approach that separates the automation model from the underlying application.
Teams can text faster and at scale by running multiple tests in parallel across distributed infrastructures and VMs. Users can define test data and environmental coverage to prepare, configure, and orchestrate test cases for multi-app, end-to-end process testing.