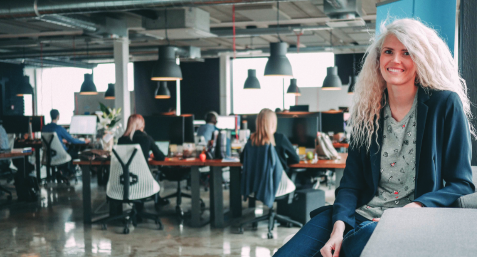 As an avid tester, Kristel Kruustük found that many crowdsourcing test platforms didn't incentivize testers to dig deep into products for the real issues. What's worse is there was no teamwork or collaboration between other testers. Testers didn't care about the products, it was all a competition, and they weren't producing quality results.
That's why the Estonia native set off to create her own QA management platform. Testlio, a platform where testers can collaborate with each other and have their work appreciated, launched in 2013. With over 650 million users monthly, Kruustük said she wants Testlio to be the place when "you think about testing."
Kruustük said Testlio is really built with three key aspects in mind. The first is the payout model – testers are paid by the hour, so their time spent testing and looking for bugs is valued. The second aspect is that the platform is built to help other testers communicate and share ideas, and they are incentivized to reproduce issues and learn from issues reported by other testers. The third aspect was to build a platform that helps testers become better at testing.
"We are pulling in reviews from app stores to get an understanding of what the end users think, so the testers will not just sit in their corner from a tester's perspective, but they will see how end users think and [learn] what their real pain points are," said Kruustük.
As a young startup, Testlio is on the path to continue its momentum, working with customers like Microsoft, Lyft, Salesforce, Strava, NBA, and Hotels.com. Testlio has over 200 verified testers covering 40 countries, and the testers have 2,500 devices in hand, covering 65 languages as well, according to Kruustük.
In addition to having a female founder and CEO, Testlio also focuses on diversity, with half of its employees being women and minorities, and almost half of the leadership roles filled by women. Yet Testlio started out as just a simple hackathon idea from a woman who fell in love with testing.
From one small village to 'The City'
Kruustük grew up in a tiny village in Estonia, and when it came time to settle down with a career path, she didn't have any idea what she wanted to do with her life. All of her friends were getting started with tech careers, so she decided a reasonable thing to do would be to apply to the Estonian Information Technology College and study programming and IT systems.
Friends recommended she consider testing as a job, and she found that it was something she enjoyed, requiring her to wear a lot of different hats, communicate with stakeholders and end users, and make sure everyone was having a good user experience.
As much as she loved testing, she found that not everyone felt the same way. She couldn't avoid the "myths of testing" floating around the industry, like QA or testing is an entry-level job on the road to something better. Kruustük knew she had to try something different.
"I really started sharing these concerns [with testing] with Marko Kruustük, my boyfriend at the time, and then I saw on EventBrite that there was a global hackathon series in London," said Kruustük. "At that point, Marko had other ideas for the competition but after months of brainstorming and seeing my frustrations and passions for testing, he said 'Okay I'm just coming with you.' " Out of about 64 ideas, Kruustük's idea was one of the winners. However, the top winners of the hackathon received invitations to go to San Francisco, and Testlio did not make the cut.
That is, until Marko (her now-husband and now COO of Testlio) met the founder of the hackathon in a coworking space, who was excited about their idea and later invited Kruustük and Marko to San Francisco, where they went on to win the hackathon and receive about $25,000 as an investment. Kruustük said this was the start of Testlio, and now, the company has two locations which are rapidly growing, according to Kruustük, with offices in Estonia and San Francisco.
'QA is not as good as programming'
Besides developing Testlio as a destination for all things test-related, Kruustük really wanted to bust the myth that testing is not as good as being a programmer or a developer. She was fed up with the comments like, "Anyone can find issues in products," which Kruustük says just isn't true.
"They think the fact that there are so many types of testing, like for example if you are just a user finding an issue on a product, you are like a user tester," said Kruustük. "Testers go really in depth and really understand what the root cause of the issue is, like 'Is this happening to anyone else? Why is it happening and is it really a priority for us to fix it?' "
Kruustük said there can never be any bug-free products, and companies can have hundreds of issues in the backlog at a given time. It's a tester's job to prioritize these issues and then figure out how to prevent issues from happening in those particular areas, she said.
Plus, the world needs more mobile app testers, as it continues to be a challenge across the board. According to a World Quality Report 2016-17 by CapGemini, HPE and Sogeti, 46 percent of respondents said they are lacking mobile testing expertise, with another 48 percent saying there aren't enough processes or methods in place for testing.
"[Testing] is really understanding if the issue is happening elsewhere and if we can reproduce the issue and what actually is causing it," said Kruustük. "Maybe it's because of WiFi network or because I have too much memory taken up on my device. There are so many cases, but we have to understand if [an issue] is happening to more users than just one."
How to be a female entrepreneur in the tech space
Kruustük is also showing the testing community what it takes to be a female entrepreneur in the tech world.
When Kruustük got started in QA, she said she saw a lot of support from female testers — and there were a lot in that role. She also had support and guidance from peers, but never personally experienced diversity issues in the QA space.
She did find that at conferences, most of the keynotes were men, which could be discouraging to women looking for diversity in thought leaders. Kruustük said this changed quickly when women who attended the conferences simply asked the question, "Why is it this way, and how do we bring in diversity?"
"Women are raising their voices, which is very good," said Kruustük. "If you don't have a diverse conference panel, we will make the noise. There are still younger girls that want to be testers so you want to really build a network and grow support for the community and these people."
In Estonia, Kruustük said women are very supported in the tech space, and there's even a program called Superheroes Estonia, which targets girls ages 13 to 16 and encourages them to work on projects with guidance from startups in Estonia. Kruustük said it encourages these types of women from meetups and other tech communities to help and coach young girls looking to start a career in tech.
"I participate a lot in coaching and mentoring different people around here," said Kruustük. "When there is someone young reaching out to me, to learn more about what i do, I am always open to share my experiences and hopefully inspire them to do the same."
Women and girls also need to have the confidence and curiosity to just reach out to people in the industry for help, Kruustük said. When she moved to London, she sent out a bunch of emails and calls to just meet up with women in the tech space, and people were welcoming and open about their own experiences.
Her best advice for girls is to "do what you want no matter what." She has taken this advice from her grandmother, someone who pulled through World War II, who encouraged Kruustük to be successful, and who said, "Never let any force stop you from achieving what you want."
"I don't care what's happening out there, if I love something I don't let outside aspects affect me," said Kruustük. "That's my advice, the 'just do it' mentality, do it no matter what."