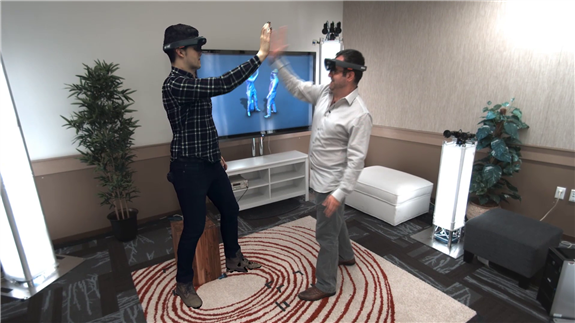 Microsoft is taking its holographic computing capabilities to the next level. The company has introduced new technology designed to bring users and remote participants together in the same physical space. Holoportation is a new type of 3D technology that transmits high-quality 3D models of people anywhere in the world in real time. It allows users to virtually teleport, as well as to see, hear and interact with remote participants.
"Communicating and interacting with remote users becomes as natural as face-to-face communication," according to Microsoft Research.
Uber tests developers during their rides
Uber is looking for new developers and engineers on the go, and Business Insider reported the company is taking its job search to the streets. The company's Code on the Road program aims to lure engineers by randomly popping up during their ride and testing their coding skills.
According to the company, it does not use individuals' personal information to identify whether or not they are engineers; instead it determines geographic areas where technology jobs are the most common.
"We are always looking for new ways to reach potential candidates that want to join our team and help us solve interesting problems," a company spokesperson told Business Insider. "If you're in a place where a lot of people work in tech, you may see our 'Code on the Road' challenge within the rider app. The option to play gives interested riders the opportunity to show us their skills in a fun and different way, whether they code on the side or are pursuing a career as a developer."
Google gives developers a chance to win a trip to Google I/O
Want to win a free trip to Google's upcoming developer conference? Google wants to hear users' Android ideas, and if they are interesting enough, the company will send people to its annual software development conference, Google I/O. The company has announced the Android Experiments I/O Challenge where three winners will get a trip to this year's Google I/O, and five runners-up will win the new Nexus 6P.
According to the company, projects should utilize the Android platform in an innovative way. Suggestions included creative uses of the platform's new and distinct features; projects that explore new and interesting ways to interact with devices; and open-source projects that inspire other developers.
Developers have until April 13 to submit their ideas.
Microsoft builds custom Windows 10 for Chinese government
Microsoft is reportedly building a custom version of its latest operating system for the Chinese government. According to Tech Times, the company has been collaborating with a Chinese corporation to create Windows 10 Zhuangongban, a version tailored to meet the needs for the Chinese government. Differences include fewer consumer-oriented apps and services, and improved security and management controls.