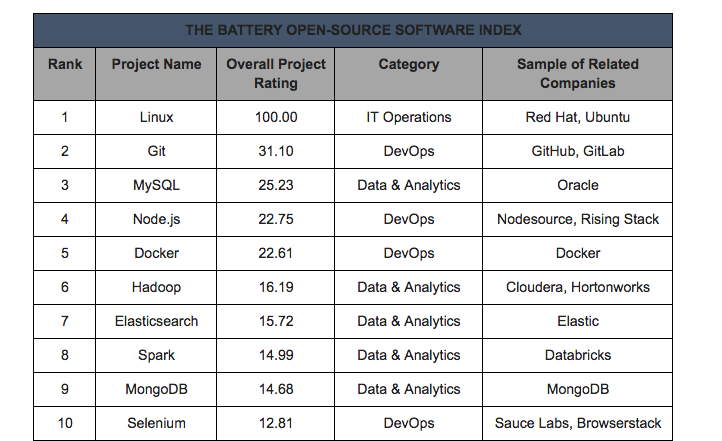 Battery Ventures released a new index to rank open-source projects according to their user activity, popularity, ability to create jobs, and traction among developers. The Battery Open-Source Software (BOSS) Index can also be used to offer insights into key open-source software trends.
According to Battery Ventures, there are some well-known names on the list, like Linux, which is ranked number one. Following Linux is Git, MySQL, and other fast-growing projects like Selenium, Vagrant, and Gradle.
"The rise of open-source software represents a sea change in enterprise IT, and it is increasingly the go-to option when developers need to spin up new applications or infrastructure," said Dharmesh Thakker, the Battery Ventures general partner who oversaw the research efforts of the BOSS Index. "Most, if not all, of the significant enterprise-tech companies being built today, and several that could go public this year or next — including Cloudera — are reliant on open source. At the same time, some other open-source companies have a ways to go to figure out a real business strategy."
Acquia launches Acquia Cloud CD
Acquia, a digital experience company, launched its Acquia Cloud CD, which allows developers and DevOps teams to automate their processes for code. The Acquia Cloud provides teams with a continuous integration and delivery automation service in order to speed up production.
Acquia Cloud CD lets developers implement continuous integration and delivery with the Acquia Cloud; orchestration code assembling and testing with CD pipelines; run controlled and secure building on a single platform; and it lets them automate testing and static analysis of build artifacts, according to the company.
Skytap launches Skytap Container Management
The enterprise cloud company Skytap launched its Skytap Container Management platform, which accelerates application modernization by letting IT organizations develop, deploy and run traditional enterprise and containerized apps together in Skytap's cloud.
The capabilities of Skytap's Container Management platform builds on the Skytap Driver for Docker Machine. Skytap Container Management also supports a range of container platforms and orchestration technologies, like Docker and Kubernetes. Other features include unified management, heterogenous integration, and full control over containers.
More information can be found here.
Latest Window 10 Insider Preview for PC released
Microsoft has announced Build 16170, the latest Windows 10 Insider Preview for its PC version. This build is not expected to have any major changes of new features. The company says it is currently working on refining and refactoring OneCore.
One change the company did make was the creation of its IT professional Windows Insider, its Windows Insider Program for Business. Businesses will be able to increase the visibility of their organization's feedback using corporate credentials.
More information is available here.