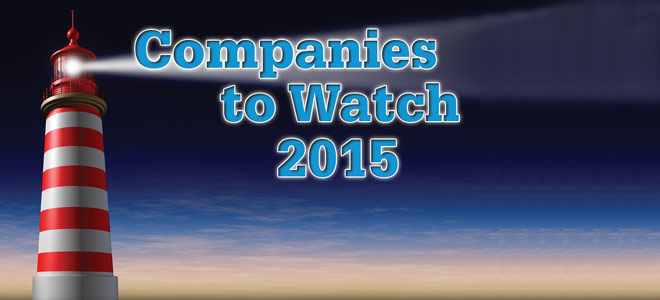 As technology platforms and paradigms shift, morph and ultimately change how we interact with our devices and workstations, gaps between old and new widen while innovative ideas have room to take root.
To turn the light onto those emerging companies, SD Times is pleased to again present its Companies to Watch in 2015. These are startups or young companies working on projects that help fill those gaps or take us to entirely new places.
Some of these companies might grow into the next Amazon or Google. Some might find a niche and thrive quite nicely for years. Others, unfortunately, won't gain traction, or the platforms beneath them will change and derail their efforts. Be that as it may, for now, in this moment, these are the companies our editors are recommending you keep your eye on.
Are you watching these companies? Have we missed any, in your opinion? Write us at feedback@sdtimes.com.
Ansible
What They Do: IT automation and configuration management
Why We're Watching: In only a year, the open-source platform for natural language IT automation grew its community to more than 800 contributors and became the most popular IT automation project on GitHub. Ansible Inc., the company behind the open-source juggernaut, has turned Ansible into a serious competitor to Chef and Puppet in the IT orchestration, application deployment and configuration-management space.
CoreOS
What They Do: Server operating system
Why We're Watching: It's a Linux distribution for modern infrastructure stacks. By providing an OS for running thousands of servers, CoreOS has positioned itself at the crux of innovation for scalable server infrastructure. With its recent acquisition of Docker hosting startup Quay.io, CoreOS is also hedging its bets in the booming container market by launching its own private Docker repository.
Affectiva
What They Do: Facial coding
Why We're Watching: Facial recognition may be the flashier buzzword, but facial coding technology is less controversial and far more marketable. MIT Media Lab startup Affectiva has developed Affdex, software that reads facial expressions to measure a customer's emotional connection with an ad, media content or brand. The opt-in emotion measurement has far-reaching implications for marketing and advertising, and the Affdex mobile SDK is already putting the technology in the hands of developers.
Augumenta
What They Do: Augmented reality gesture control and virtual projection
Why We're Watching: Whether wearables end up a fad or grow into a lasting market, there's no denying the technology is still in its infancy—and far from a natural experience for end users. Finnish startup Augumenta aims to change that with the Augumenta Interaction Platform, an SDK integrating gesture control and touch-based projection of keyboards and interfaces into smartglasses. The tech isn't yet released, but Augumenta showed off the immersive AR experience with live demos on Google Glass and Epson Moverio at the Wearable Tech Expo.
Adatao
What They Do: Big Data BI
Why We're Watching: Adatao approaches Big Data in a different way than other companies by trying to bring data intelligence to all. It promises to bring us into Big Data 2.0, a world of Big Data focused on the user, rather than data scientists and engineers. Its products present data visually, making it easy to interact with and consume Big Data in a natural, collaborative way.
Two Tap
What They Do: Mobile checkouts
Why We're Watching: Two Tap wants to transform online shopping. The company's API provides a fully integrated, scalable, secure and automated checkout solution for developers to implement into their applications. It enables consumers to purchase any product on any mobile application or website without having to go to the retailer's website. The checkout solution supports desktop, mobile and wearable platforms, and is already implemented in more than 200 various retailers. With a recently announced US$2.7 million seed round, the company will continue its mission to radically simplify online shopping.
UserVoice
What They Do: Online helpdesk platform
Why We're Watching: UserVoice integrates feedback, a helpdesk and knowledgebase-management tools into an all-in-one customer-support platform. For expanding enterprises, UserVoice software scales elastically with a multi-agent ticketing system that mimics the user experience of e-mail, pulling data from social media, billing, and CRM systems.
OutSystems
What They Do: Enterprise PaaS
Why We're Watching: In a world where PaaSes are dropping like flies, the OutSystems Platform has proved it has staying power. With the ability to use Eclipse and Visual Studio IDEs to reuse existing Java and C# code, the open platform provides a visual dashboard to design user interfaces and model APIs for responsive cross-platform mobile apps.
Illiri
What They Do: Audio API software
Why We're Watching: There are many ways to go about device connectivity, but no one does it quite like Illiri. The company's SAPI API offers an alternative of sorts to near-field communication by establishing ad hoc connections between devices, or a large network using plain audio signals. Illiri offers SAPI to developers for free, but the company is exploring a variety of consumer-facing applications, including mobile payments, gaming and social media.
Hazelcast
What They Do: In-memory data grid
Why We're Watching: In a crowded in-memory database market, where Oracle, SAP and others have entered the game, Hazelcast distinguishes itself by offering not just a data grid, but a message queue with metadata for each operation in the queue. Hazelcast CEO Greg Luck has also been integral in completing the JCache specification, and the Java-based open-source data distribution platform allows developers to quickly access data and modify it without the need to write it back to disk.
Piston Cloud
What They Do: OpenStack orchestration
Why We're Watching: Created by several OpenStack founders, Piston Cloud has cornered the market on OpenStack orchestration with Piston OpenStack, which automates the entire orchestration of private enterprise cloud environments with AWS-like capabilities. Piston OpenStack gives developers and IT administrators an easy path to standing up new servers and deploying new code by managing a group of servers as a single pool of elastic and scalable computing resources, improving data center efficiency to keep up with the rapidly accelerating application development process.
HashiCorp
What They Do: IDE creation
Why We're Watching: The company behind Vagrant, its co-creator Mitchell Hashimoto founded HashiCorp back in 2012, and the company has steadily added to its tool portfolio with offerings like Packer, Consul, Serf and Terraform. But it all comes back to Vagrant, the open-source tool for configuring lightweight, portable development environments that is still on the cutting edge of streamlined workflows and automation.
CenturyLink
What They Do: Telecommunications, but we care because of Panamax
Why We're Watching: It's rare that a telco provider makes it onto this list, but CenturyLink's acquisition of PaaS company AppFog in 2012 has resulted in Panamax, a service description and templating tool that allows developers and DevOps teams to design large-scale, multi-tier deployments with Docker images. Panamax is designed to make Docker orchestration tools like Fleet and Kubernetes easier to use and transport in hosted enterprise cloud environments.
NoFlo
What They Do: Flow-based development
Why We're Watching: The idea of flow-based programming has long dominated the non-programmer spaces of business, but NoFlo aims to transform software development from a text-oriented process to a visual object-oriented process. NoFlo is a JavaScript implementation of flow-based programming in Node.js, and its open-source community has created more than 200 components to build large-scale applications quickly. A successful Kickstarter campaign has also made the Flowhub Web-based NoFlo IDE (currently in beta) a reality.
Parallela
What They Do: Parallel computing platform
Why We're Watching: Born out of a Kickstarter campaign backed by semiconductor startup Adapteva, Parallela aims to make parallel computing widely accessible through an open-source architecture and SDK. The so-called "supercomputer for everyone" is based on Adapteva's Epiphany multicore chips with scalable RISC processor arrays programmable in C/C++. If the platform succeeds in democratizing open-source access to parallel computing, it could bring about a revolution.
Tresata
What They Do: Big Data monetization
Why We're Watching: Tresata caught our attention at this year's Strata conference as the only company building commercial products on top of Apache Spark. Tresata offers a Spark-based network-mapping application called NET 1.0, aiming to monetize Big Data with predictive analytics. Tresata could be a game-changer because it's showing that Big Data applications can be responsive, offering real-time network asset analysis in new packaged apps for enterprises. It's the evolution of Hadoop.
Cloud Technology Partners
What They Do: Application modernization
Why We're Watching: As organizations look to leverage the cloud for cost efficiencies, scale and elasticity, they'll need to update their legacy line-of-business applications to do so. That's where Cloud Technology Partners comes in. As part of its PaaSLane service, the company provides a way for organizations to first assess applications for modernization and migration to the cloud, then to optimize code to get the application cloud-ready.