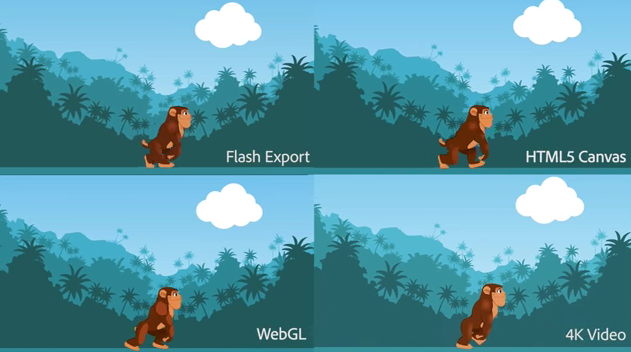 Adobe Flash is soon to be no more. The technology, which once was ubiquitous on desktops and browsers, will now be called Adobe Animate CC (for Creative Cloud) to reflect the changing times.
The change comes as the Web moves more toward open Web and HTML5 standards. With the emergence of HTML5, the need for plug-ins like Adobe Flash ended and gave companies the ability to add rich features into browsers without having to install software beforehand. Big names such as Mozilla, YouTube and Amazon have already started to move away from the technology.
(Related: YouTube drops support for Flash)
As a result, Adobe has been reworking the tool to embrace this new reality. "Today, over a third of all content produced in Flash Professional CC is HTML5-based, reaching over 1 billion devices worldwide," wrote Rich Lee, senior product marketing manager for Creative Cloud Web products, in a blog post. "In order to more clearly reflect its role as the premier animation tool for the open Web and beyond, we updated the name."
Some updates the team has made to the tool include the incorporation of native HTML5 Canvas and WebGL support.
The company is expected to move to Adobe Animate CC early next year. The new product will continue to support Flash and AIR formats, and will continue to improve its HTML5 capabilities over time.
In addition to renaming the product, Adobe is working on new features. Those include improved audio syncing, enhanced color changing, a 360-degree rotatable canvas, vector art brushes, CreativeSync integration, multiplatform support, 4K+ video export, and OAM support.
"This is just a sneak peek of all the capabilities that we're bringing to Adobe Animate CC," said Michael Chaize, principal Creative Cloud evangelist. "I am so excited because there is so much more. I can't wait to see the animations you will create with this tool."