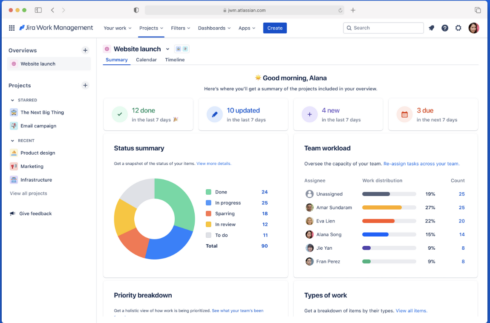 Atlassian today announced updates to Jira's capabilities designed to bring software teams and the business side closer together by enabling every team to manage its work, collaborate, and gain visibility into what other teams are doing.
Companies using Jira Software include NASA, which can write code on a Monday and deliver it to drive the Mars Rover on Tuesday. And automaker Audi's research and development team captures thousands of feature requirements during actual road testing. And there are literally hundreds of thousands of organizations trying to achieve business success through software.
Megan Cook, head of product for Jira Software, told SD Times:  "It can't just be a bunch of engineers in a room doing that. There are so many of the teams that actually get it to that reality where it's having that impact. And they're marketers, program managers, designers, sales, like all of these non-technical teams throughout a company that are key to making that happen. And yet, they tend to use completely separate isolated tools. And so you get your information frozen in these tools, when you need all these teams to be top collaborators together. And that's the problem that we really wanted to tackle with this. To have that impact on the world, we need to go further and bring those teams together."
To facilitate that type of collaboration, Atlassian has created something called Overviews within Jira Work Management that gives organizations a way to connect all of the teams involved in taking software to market.
According to Atlassian's blog announcing the updates, Overviews lets companies combine cross-functional projects into one aggregate view. Teams can work on their own individual projects, and Jira Work Management brings it into an easy to understand view. This update can map dependencies across teams, manage team capacity, identify overlaps, and more, according to the company announcement.
New shared release dates in Jira Work Management sync up in all teams' calendars. Cook explained that teams like marketing can keep up with development teams on all new features. If the release date is pushed ahead or moved back, the marketing team knows it, without having to leave Jira Work Management.
"This is really important, because sometimes what you're working on doesn't just affect one team," Cook said. "But you've got a marketing team, a legal team, a security team, a design team, and you've got to make sure all of that works together. And this is your view of that." 
The result of a collaboration, Cook said designers working in Figma are now able to work in parallel with developers working in Jira.
The Figma for Jira app lets teams working in Jira add designs to Jira issues to gain context regarding designs, and includes support for Figma files, pages, frames and prototypes, For designers, the Jira widget or Jira plugin for Dev Mode links designs directly to a Jira issue without leaving Figma.
"Designers have all sorts of different work that they do at different times during the product development," said Cook. "So they might be doing this right at the start where they're putting a vision together. Or it might be further along in the implementation phase where it's sort of like piece-by-piece design review. Figma launched a new view called Dev Mode where you can even copy code snippets, and as a developer, you can see down to the pixel how big you should be making the box. But it's still in separate tools. It doesn't bring it together, and as a developer, you still kind of have to hunt for that asset."
New capabilities in the Figma for Jira app will be out later this year, the company said.
The company has added a command palette in Jira Work Management that lets teams interact with each other across Atlassian's tools. "With CMD/CTRL+K [for either Mac or Windows users, respectively], over 40 commands with shortcuts," Cook explained, users can do product searches, issue actions, navigate products and sites, and even interact with settings and help, without leaving their application. In the announcement, the company also noted it has added the ability to add context and relevant information from Confluence into Jira Work Management.
Lastly, Cook said, Admin Insights for Jira Work Management lets admins connect platform features such as Atlassian Admin, Analytics, Access, Data Lake and security features to Jira Work Management. Also a collection of AI capabilities in Atlassian Intelligence Editor will soon enable things like auto-generated content and project summaries. That integration should be completed soon, the company said. 
"What a lot of companies are seeing now is that we have the technology to move super fast when it comes to producing software. And so now the company can test and see whether they're driving the impact that they intended to, at the speed of software. And so what's so important about getting these non-technical and technical teams working so closely together is because it allows the company to have this incredible advantage in the market … and to make sure that all these efforts that these people are putting in are actually aligning with any kind of a business goal."