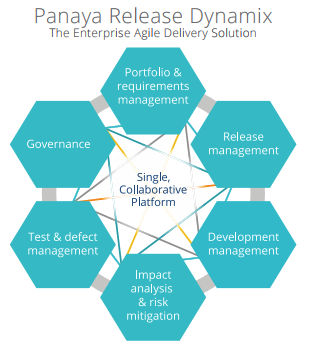 To be truly agile, businesses must focus on user-oriented agile principles, not just on agile IT practices. That's the key reason why, seven months after the availability of Release Dynamix, almost 70 of Panaya's customers have already gone into production with the vendor's latest product.
With the dawn of digital transformation, organizations want to quickly respond to customer needs with rapid delivery of high-quality software, said Rafi Kretchmer, VP of marketing at Panaya. Businesses are also recognizing that improving the customer experience increases revenues.
According to a recent report by Forrester Research, a one-point improvement in what Forrester calls the CX (Customer Experience) Index produces an additional $3.50 per airline customer. Since airlines have 48 million customers on average, a one-point improvement would result in an average of an extra $168 million in revenues.
Ideally, a focus on the user experience will have a ripple effect on IT. "Customers drive business, and that in turn drives IT to respond. Agile organizations transform their application delivery to accelerate change, in turn meeting customer demand," Kretchmer elaborated.
The mere adoption of agile practices does not equate with the agile principles required for digital transformation.
"Agile is a culture, not a process. Applying agile practices like Scrum or Kanban without changing organizational culture will not work," noted Kretchmer.
Even in organizations that are adopting agile IT and DevOps, business and IT functions often remain siloed, according to the VP. "There are specialized teams — CRM, BI, testing, security, system, database, and development, for example — with mutual dependencies. This scenario is contradictory to cross-functional teams," he observed.
Furthermore, most of the enterprise ALM toolsets on the market do not support the move to an agile culture. "Traditional ALM solutions didn't make the switch from waterfall to agile. Cloud-based solutions focus mainly on the needs of ISV developers. They don't apply a business view and have difficulties breaking the IT/business silo," he contended.
On the whole, enterprise IT organizations are spending the vast majority of their time on maintenance and support projects, as opposed to new initiatives. As a result, IT is being marginalized, and is now at risk of losing its strategic position within the organization, Kretchmer said.
Panaya ties business, IT
First established 12 years ago, Panaya stands out against competitors by recognizing the important roles played by both business requirements and IT efficiency in producing business agility, Kretchmer told SD Times. Aside from Panaya Test Center, its flagship product, and the new Release Dynamix, Panaya also provides specialized digital transformation tools for SAP, Salesforce.com, Oracle Cloud, and ERP environments.
Allianz, one of the world's leading financial services firms, used Panaya's tools in installing a new SAP system for Europe and Asia. Allianz Global Investors had committed to outsourcing full-stack to a single supplier and to putting a new standardized process template in effect within one year. As a major part of that effort, the investment arm ran 1,000 tests among 40 testers in seven different locations, all within a total of only two weeks.
Maximilian Mayrhofer, global program manager at Allianz Global Investors, pointed to three big differentiators for Panaya. First, Panaya's tools are able to model the company's business processes in software. Second, Panaya's management of defects and new requirements is best in class, enabling full oversight throughout the organization, Mayrhofer said. Third, Panaya is able to fully automate test documentation.
Release Dynamix makes its entrance 
Release Dynamix takes a number of additional steps to further collaboration between business and IT, ensuring faster delivery times and high-quality releases regardless of which agile and DevOps practices are in place.
For one thing, Release Dynamix supports cross functional teams by allowing all team members to view and access detailed information about both business requirements and the software development cycle. Companies can plan their software releases around business priorities. If priorities change, so too can the development cycle — and right away.
Also unlike most other toolsets, Release Dynamix focuses not just on time to market, but on quality. "[Other solutions] lack key business criteria. What is the quality of the stuff we deliver on top of the devops road? What boards these agile trains?" Kretchmer asked rhetorically.
Release Dynamix supplies quality assurance through technologies known as change impact analysis and risk analysis. "Change impact analysis enables mapping and tracking your packaged application changes to specific requirements, project and release-level risk analysis, to assess readiness for testing and production. Real-time insights allow for preemptive code fixes prior to test execution," Kretchmer explained.
"With our unique risk analysis capability," he added,"IT and business managers can for the first-time weigh in Time, Scope and Quality, allowing them to make informed decisions, shorten release cycles, and ensure quality changes."