VersionOne is hopping on board the mobile train with the latest release of its mobile team collaboration product, Mobile Connect.
"This release is really about what I would characterize as enterprise collaboration and extending the reach beyond an individual's personal computer and notebook, taking our application and extending it to mobile devices," said VersionOne's president and CEO Robert Holler.
(Related: How collaboration fits into tomorrow's workplace)
With VersionOne's release of Mobile Connect, teams can now collaborate and view project activity and Conversations (the company's team collaborative feature) on their mobile devices.
"Your computer is only a slice of the day, yet the project you are part of and working on is going on all day and all night," said Holler. "Mobile Connect is a way to keep in contact with what is going on with your project at all times, remain in contact with other team members, see what changes are occurring, any estimates that may be new, documents that may have come in, and staying engaged in a real-time fashion."
In addition to Mobile Connect, the company is also releasing a plug-in poker-style estimation game that users can play on their smart devices. With Estimably, users can start an estimation game and invite people to join and participate on stories and defects. The stories and defects come from the backlog of a project, so teams can actually work on project items in a fun and entertaining way, according to Holler.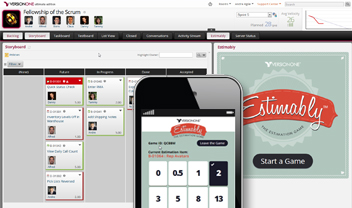 The way it works is a story or defect is dragged and dropped into the game environment, and users pick a card with an estimation number on it that they estimate about the story or defect. The numbers represent the item's level of difficulty. Users can collaborate interactively through Conversations on their phone, and once everyone estimates the item, they can see what the other users estimated and discuss their findings.
"You can collaborate, communicate, talk and gain some level of consistency on some estimation in a very distributed fashion," said Holler.
VersionOne will be giving a demonstration on Mobile Connect and Estimably at Agile 2014 next week in Orlando.