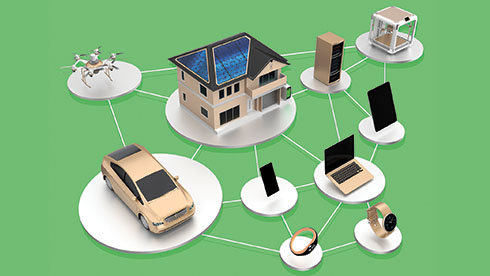 Much ink was spilled in 2015 about the Internet of Things. It's a concept that has been bandied about for several years—remember the use case of your refrigerator letting your local grocer know when you're out of milk? The coming together of smartphones, sensors, GPS, Bluetooth and other technologies that enable mobile interconnectivity has moved us closer than ever to a reality of ubiquitous interconnectivity.
In the beginning of the year, Intel's Open Interconnect Consortium (OIC) unveiled a preview of IoTivity, an open-source software framework designed to provide connectivity for IoT devices. The Online Trust Alliance followed suit with the release of its Internet of Things Trust Framework in August, designed to address security.
IBM made efforts to help developers create IoT solutions in July when it released its developerWorks Recipe site, which provided templates and tutorials for building IoT apps and the intelligent logic behind the devices. Salesforce entered the IoT market in September with the announcement of its IoT Cloud, which allows developers to push their IoT device data into the cloud. Verizon turned its focus to the Internet of Things in October with a global strategy designed to make developing IoT solutions easier. The strategy included the launch of ThingSpace: an IoT platform for developers, a new dedicated network core and connectivity options, and three new end-to-end smart cities solutions.
And it wasn't just IoT that made advances in 2015; artificial intelligence solutions became smarter and smarter as the year went on. In January, researchers from the University of Alberta said they made a breakthrough in AI when they created what they believed to be the first program that solved a non-trivial human game with imperfect information: heads-up limit Texas hold 'em. Another game-playing system was announced in September when a computer engineer from Imperial College London developed an AI system that used machine learning to teach itself chess.
And IBM's Watson computer used machine learning and artificial intelligence to drive innovations in healthcare, banking and even in talking toys that used natural language to communicate with children.
Toward the end of the year, Facebook announced advancements in image recognition and natural-language understanding; and Microsoft researchers developed a new system that analyzed images and interpreted them as humans would, using multi-step reasoning and deep neural networks.
Other organizations such as the FAA vowed to keep the public safe when a new industry popped up: commercial drones. Drones have been used by the military for years, but last year the market started to move into agriculture, search and rescue, surveying, photography, and videography, and with them came new tools for developers.
3D Robotics announced DroneKit, a free and open drone application development platform in March. DJI released the Matrice 100 in June to give developers a new platform to research and test their drone applications and technology, as well as Guidance to provide an object avoidance system for drones. The company also launched the Manifold in November to give developers a new embedded computer for drone development.