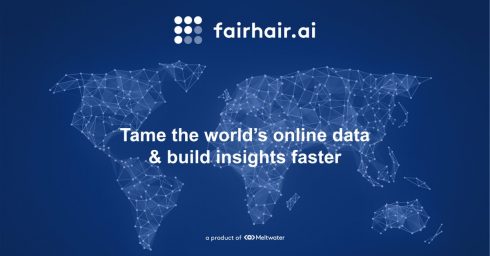 Media intelligence company Meltwater is opening up its artificial intelligence platform to give developers and data scientists real-time insights into business data. Fairhair.ai features a knowledge graph for connecting and organizing internal and external data, access to pre-trained and configurable AI models, and the ability to make data-driven decisions.
"We quickly realized our AI platform had far more potential, beyond Meltwater's core products, to democratize competitive insights created from real-time online data. Fairhair.ai goes beyond Business Intelligence by filling the gap between historic trends and real-time market indicators, and predict what's ahead with forward-looking insights – a practice we call Outside Insight," said Jorn Lyseggen, Meltwater's founder and CEO.
Lyseggen went on to explain that while online data is one of the most valuable sources for business decisions, it also is one of the biggest challenges for businesses to obtain and understand the right data in order to make valuable conclusions. "Historically, online data has been hard to track and analyze in a systematic and rigorous way because of it sheer scale, plethora of data types, and its multitude of languages. Fairhair.ai addresses many of these challenges and helps companies analyze the noisy and messy web to better understand their competitive landscape," he said.
As part of the announcement, Carnegie Mellon University announced it would be collaborating with Meltwater to levage the Fairhair.ai platform and advance AI education and research. The university believes the platfrom can help students and faculty create, connect and organize web-scale information.
""Sharing access to real-world data helps students, researchers and data scientists solve real-world problems more rapidly," said Eric Nyberg, director of CMU's Master of Computational Data Science program and a professor in the Language Technologies Institute at CMU. "In addition to realistic real-time data sources, the platform also includes AI modeling and integrated cloud computing to greatly simplify the process of building and optimizing new web-scale analytics."
The University of Oxford will also be partnering with Meltware to help researchers access and work with the platform. Oxford plans to use the data and AI platform to support four major projects: 1. Value Added Data Systems, 2. FakeNewsRank, 3. Realistic data models and query compilation for large-scale probabilistic databases, and 4. DeepReason.ai.
"These research projects are collectively focused on pushing the boundaries of knowledge graphs, from populating and scaling to processing and reasoning. Meltwater is already leveraging these techniques, together with recent advancements in machine learning, to further strengthen its Fairhair.ai platform," said Georg Gottlob, professor of informatics, fellow at St. John's College and member of Meltwater's Scientific Advisory Board. "Together, we have a shared interest to explore what we believe is the future of AI – the combination of machine learning and logical reasoning – and significantly advance the greater data science ecosystem."
Other features of Fairhair.ai include access to open and licensed global data, custom sources, custom models, rule-based filtering, predictive insights, reasoning and precision filtering.
"Existing AI platforms often require a lot of expertise and experimentation to be effective. They also don't help with the expensive and difficult preparation of data. Fairhair.ai provides a fast-track to reap the benefits of AI and advanced insights by opening up access to our data and models organized in a knowledge graph," said Aditya Jami, CTO and head of AI at Meltwater.