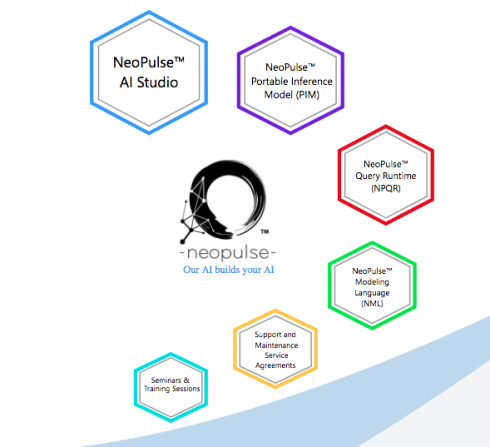 DimensionalMechanics has announced a new programming language for artificial intelligence and deep learning development. Its NeoPulse Framework 2.0, called NML 2.0, is designed to make AI more accessible to developers, programmers and data scientists.
"With NeoPulse, our AI builds your AI," said Rajeev Dutt, CEO of DimensionalMechanics. "We've created a platform for AI development that lets developers of all skill levels rapidly answer data-driven questions using a cost-effective and repeatable approach. Our NML language is purpose-built for deep learning, yet easy enough to learn in just days. Developers can now create AI models in a fraction of the time and cost than was ever possible before."
According to DimensionalMechanics, organizations lack the skills and specialized knowledge necessary to build deep learning software solutions. This results in the inability to convert structured and unstructured data into intelligent assets. "CIOs will have to overcome challenges. Many are dealing with data of poor or uncertain quality. Their organizations often have minimal AI skills. Some CIOs are struggling to understand the capabilities of new AI techniques, and how to identify use cases to which AI may be applied productively," according to a recent Gartner survey on how CIOs are making progress with AI initiatives in 2018.
NML 2.0 enables organizations to build AI solutions based on a variety of data types including video, numerical text, images and audio.
The framework features the NeoPulse Modeling Language 2.0, NeoPulse AI Studio 2.0, Portable Inference Models (PIMs) and NeoPulse Query Runtime 2.0. The modeling language is a domain specific language designed to automate the creation of AI models and tackle machine learning problems like classification and regression. The AI Studio is an "AI that builds AI." The AI-as-a-Service capability automates creating custom AI models. The PIMs are portable AI models that can be deployed across different environments. Lastly, the runtime enables any app to access the PIMs with REST APIs.
In addition, the company announced an A-2 round of funding of US$1.2 million, bringing the company's total amount raised to $7.9 million.
"Our versatile platform and software tools can be used across any industry and any data types, and provides CIOs with a common AI platform for use throughout their organizations. We're confident that our next-gen NeoPulse can help accelerate the adoption of machine learning for organizations of all sizes and technical capabilities," said Dutt.