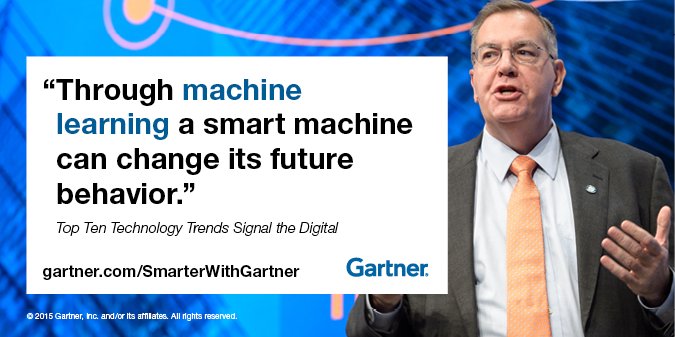 Gartner is giving organizations insight into what they can expect next year with its annual Top 10 strategic technology trends of 2017. The predictions are designed to provide organizations with an understanding of the technologies that are emerging and having an impact to society.
According to the organization, the trends can be split into three groups: intelligent, digital and mesh. "Technology will be embedded in everything in the digital business of the future. Rich digital services will be delivered to everything, and intelligence will be embedded in everything behind the scenes. We call this mesh of people, devices, content and services the intelligent digital mesh. It's enabled by digital models, business platforms and a rich intelligent set of services to support digital business. As an enterprise architecture or technology innovation leader seeking to exploit the intelligent digital mesh, you must respond to the disruptive technology trends enabling this future," according to the Gartner report.
(Related: Gartner outlines the near future of digital transformations)
The Top 10 strategic technology trends, according to Gartner, are:
Artificial intelligence and machine learning: These advanced technologies and techniques are allowing businesses to move beyond traditional rule-based algorithms and toward solutions that understand, learn, adapt and operate autonomously.
Intelligent apps: Intelligent apps such as virtual personal assistants are made possible thanks to underlying AI and machine-learning technology, according to Gartner. These apps can help improve all aspects of the business and transform the way we work.
Intelligent things: Intelligent things are also AI-based, and are designed to go beyond rigid programming models. Some examples of intelligent things are robots, drones and autonomous vehicles. According to Gartner, intelligent things and apps would not be possible without AI.
Virtual and augmented reality: Immersive technologies are transforming software and the way people interact with stores. Gartner sees the landscape for immersive technologies dramatically evolving through 2021. VR and AR can be applied through smartphones, head-mounted devices, Internet of Things, and other wearables.
Digital twins: "A digital twin is a dynamic software model of a physical thing or system that relies on sensor data to understand the state of the thing or system, respond to changes, improve operations, and add value," according to the report. Digital twins combine metadata, condition or state, event data, and analytics. The benefits of digital twins include asset optimization, improved user experience, and more complex high-value assets, according to Gartner.
Blockchains and distributed ledgers: Blockchains are a type of distributed ledger, and distributed ledgers provide the ability to trace back transactional events. "Blockchain and distributed-ledger concepts are gaining attention, because they hold the promise to transform industry operating models. Multiple business use cases are yet to be proven, but 52% of those we surveyed believe that blockchains will affect their business," according to the report. In addition, while blockchains are currently more focused on the financial services, Gartner sees them impacting music distribution, identity verification, title registry, and supply chains.
Conversational systems: Technology is allowing people to interact with chatbots and microphone-enabled devices. As technology evolves, Gartner sees the rise of intelligent contextual experiences such as Alexa, Cortana, Google Now, Siri, and more solutions that go beyond audio and video. "New input/output mechanisms will emerge using audio, video, touch, taste, smell and other sensory channels, such as radar, that extend beyond human senses. This will enable people to communicate with systems, and systems to communicate with people, in rich conversations that include more than text and voice," the report stated.
Mesh app and service architecture: "The mesh app and service architecture (MASA) is a multichannel solution architecture that supports multiple users in multiple roles using multiple devices and communicating over multiple networks to access application functions," according to the report. MASAs will allow users to get a continuous user experience across mobile, web, desktop and IoT apps. Examples of MASA services include miniservices and microservices, Gartner explained.
Digital technology platforms: Digital technology platforms are the building blocks of a successful digital business. According to Gartner, there are five major points businesses should ensure as they build up their new platforms: information systems, customer experience, analytics and intelligence, IoT, and business ecosystems.
Adaptive security architecture: AI, IoT and other emerging technologies are going to require even more security. Relying on traditional techniques won't be sufficient. Security architectures should include network security, access control, vulnerability management, endpoint protection, and basic monitoring.
"Gartner's Top 10 strategic technology trends for 2017 set the stage for the Intelligent Digital Mesh," said David Cearley, vice president and Gartner Fellow, in a statement. "The first three embrace 'Intelligence Everywhere,' how data science technologies and approaches are evolving to include advanced machine learning and artificial intelligence allowing the creation of intelligent physical and software-based systems that are programmed to learn and adapt. The next three trends focus on the digital world and how the physical and digital worlds are becoming more intertwined. The last four trends focus on the mesh of platforms and services needed to deliver the intelligent digital mesh."