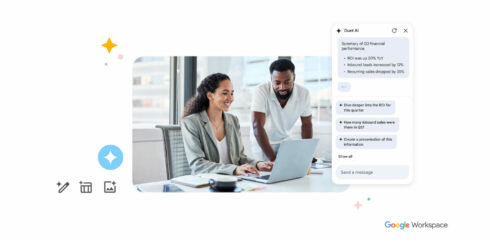 Google is offering a free trial for Duet AI for Google Workspace. Duet AI enhances collaboration by integrating real-time AI assistance into the workspace. This technology aims to make working with others more convenient and enjoyable.
"Sometimes it feels like there isn't enough time in the day — with so much email, so many meetings, and countless action items to follow up on, work can feel daunting. What if you had an intelligent, real-time collaboration partner that dramatically reduced that burden? With Duet AI, you get to focus on what really matters while it can take care of the rest," Aparna Pappu, GM and vice president for Google Workspace wrote in a blog post. 
Duet AI is being integrated into Google Meet to enhance the quality of meetings and address audio and video quality, slow internet connections, and language barriers. This integration aims to improve participants' visibility and audio clarity through features like studio-like appearance, lighting, and sound. 
Additionally, dynamic tiles and face detection will provide individual video tiles with names for remote participants in conference rooms. The introduction of automatic translated captions for 18 languages is another feature; Google Meet will recognize different languages spoken and display real-time translations.
Duet AI can also capture notes, action items, and video snippets in real time with the new "take notes for me" feature and it will send a summary to attendees after the meeting. With "attend for me" Duet AI will be able to join the meeting on your behalf, delivering your message and ensuring you get the recap.
Other updates include a redesigned user interface, new shortcuts, and improved search capabilities to help users manage their conversations effectively. Additionally, users can now interact with Duet AI through chat to inquire about their content, receive document summaries from shared spaces, and review past conversations they may have missed.