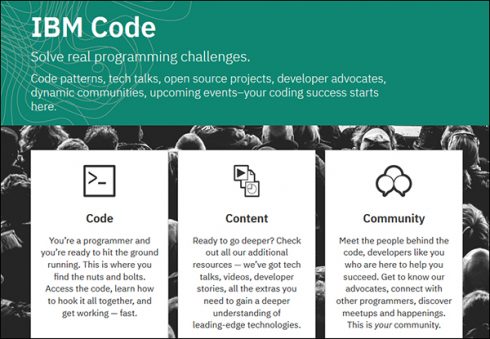 IBM is announcing new tools for building artificial intelligence, blockchain, data and cloud solutions. The company announced the release of more than 120 code patterns designed to help developers better search for open source code.
"These patterns do the dirty work for the developer – they are curated packages of code, one-click GitHub repos, documentation and resources that address some of the most popular areas of development, including AI, Blockchain, Containers and IoT. These patterns will help developers get right to the task at hand, giving them more time to innovate and build," Angel Diaz, vice president of developer technology and advocacy at IBM, wrote in a post.
In addition, the company announced its enterprise Bot Asset Exchange solution. The new solution supports bot developer communities by providing ready-to-use, domain-specific conversation logic. Users can also use the exchange to deploy IBM Watson Conversation bots to their desired platforms, according to the company.
"The exchange is built on the principles of community and leverages a shared economy, so developers can learn from one another, while earning prizes and recognition through a point system for active users. With the market for chatbots exploding – and only expected to continue to rise – this exchange gives developers the ability to quickly discover, configure and deploy their own bots," Diaz wrote.
The tools are built on a three-pronged strategy: code, content and community. For the community part, the company also introduced the IBM Coder Community designed for developers building IBM technology. The community will be available to all developers for free.